Curbing Childhood Obesity One Family Habit at a Time
"As a pediatrician, I don't want kids focused on numbers (like those on a scale or calorie counting). That can be very detrimental in terms of their mental health and can put them at-risk for eating disorders. I focus on lifestyle habits because that will help to result in better health outcomes across the board."

– Qadira Ali Huff, MD, MPH, DipABLM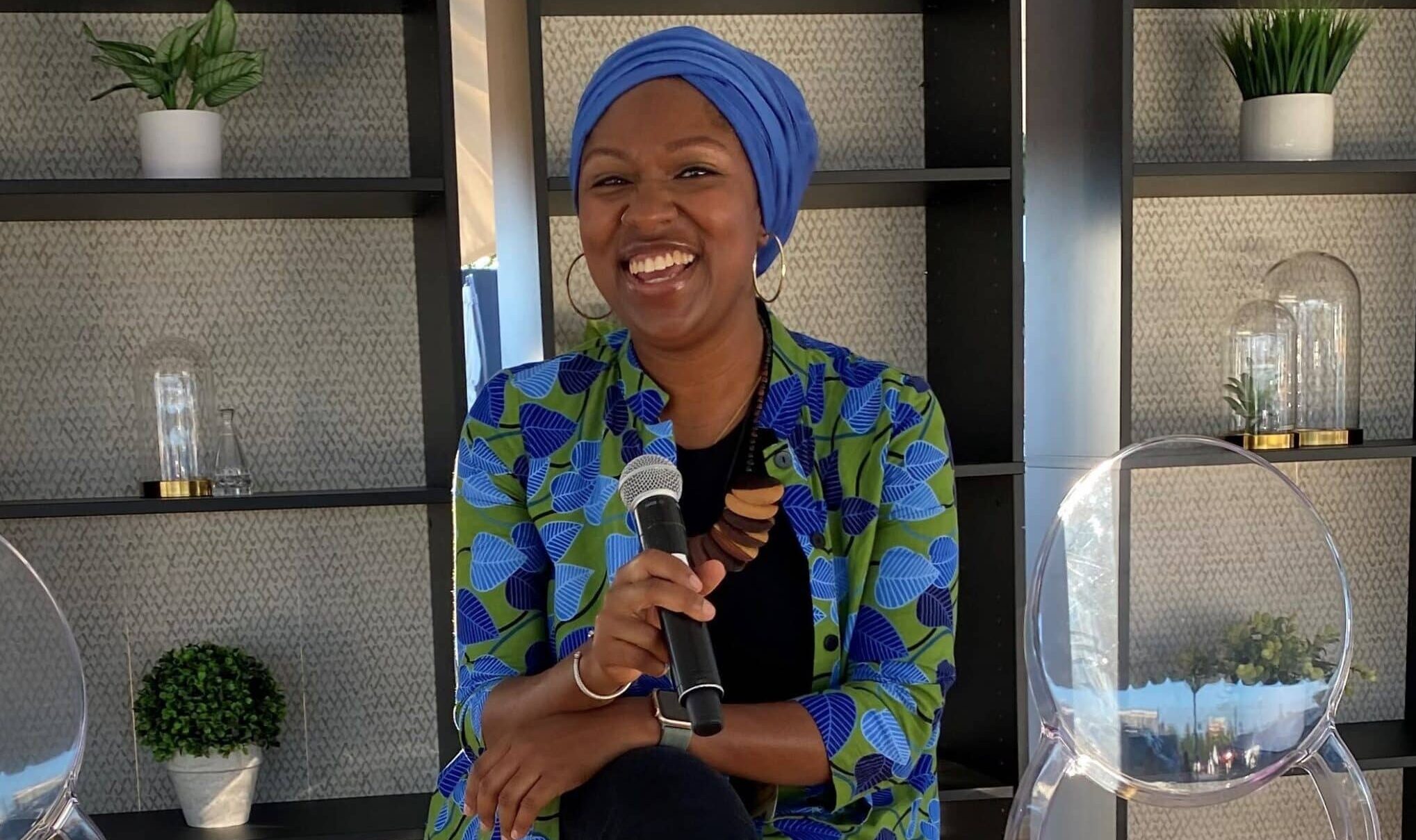 For Qadira Ali Huff, MD, MPH, DipABLM, pediatrics is at the center of prevention, education, and advocacy.
She has mastered unique skills coupled with those she acquired as a board-certified lifestyle medicine clinician to better treat medically under-resourced children from East of the River communities in Washington, DC. Many of her patients' families are experiencing housing, employment, and food insecurities — all drivers that increase obesity risk.
Family-centered approach
More than half of all adults living in the District of Columbia are overweight or have obesity, but rates are even higher in East of the River neighborhoods. These statistics remind Dr. Huff why her patients are experiencing obesity and even prediabetes at young ages. "Children live in the context of their family unit," she said. "They inherit shared family habits, shared physical activity habits, shared meal preparation habits, and shared habits that dictate how we manage or don't manage stress." Dr. Huff believes that having a family approach is essential. "I'm treating the whole family, not just the little one."
Because children and adolescents experiencing obesity are about five times more likely to experience obesity as adults, introducing healthy lifestyle habits earlier could lead to a lifelong path to better health. Dr. Huff can attest to this as her childhood was rooted in a whole food, plant-based dietary pattern. A whole-food, plant-predominant eating pattern is one of six pillars that define lifestyle medicine.
Lifestyle medicine is a medical specialty that uses therapeutic lifestyle interventions as a primary modality to treat chronic conditions including, but not limited to, cardiovascular diseases, Type 2 diabetes, and obesity. Lifestyle medicine certified clinicians are trained to apply evidence-based, whole-person, prescriptive lifestyle change to treat and, when used intensively, often reverse such conditions. Applying the six pillars of lifestyle medicine — a whole-food, plant-predominant eating pattern, physical activity, restorative sleep, stress management, avoidance of risky substances and positive social connections — also provides effective prevention for these conditions.
Dr. Huff grapples daily with providing care in the context of a harmful web of social determinants or drivers of health that can inhibit an individual's access to quality food, employment, housing and other key resources, especially in the District's Ward 7 where she grew up. Oftentimes, her patients are impacted by generational and historical cycles of structural racism that are linked to poorer health outcomes and disproportionate risk for lifestyle-related chronic diseases.
Small changes, huge gains
Since becoming board certified in lifestyle medicine in 2019 by the American Board of Lifestyle Medicine, Dr. Huff now has the knowledge, tools, and resources to be more effective when guiding her patients. "There needs to be a lot of support to manage chronic diseases such as obesity," she said. "Most of the time, parents are struggling with their own relationship with food and are seeing it come full circle with their children. Parental guilt is a real thing."
Therefore, her patient encounters don't end at the traditional 20-minute well child visits. Within four to six weeks, her patients are back in her office for a "lifestyle and nutrition check" to set and monitor SMART (Specific, Measurable, Attainable, Relevant, Time-Based) goals that address all pillars of lifestyle medicine. These unique appointments allow for time to discuss lifestyle habits and subsequent incremental changes that can curb obesity and improve overall health.
"When we set SMART goals, I offer a buffet of options instead of just focusing on nutrition," said Dr. Huff, acknowledging that all pillars of lifestyle medicine relate to how our bodies metabolize food and factor into obesity. "So, for example, I may recommend that my patients download a free meditation app, journal, or practice deep breathing as a way to cope with stress, which, if not addressed, can turn into unmanaged chronic stress, a risk factor for obesity."
Dr. Huff is least concerned about the "numbers," which is why she uses lifestyle and nutrition checks to focus on all the pillars of lifestyle medicine. Having a well-rounded way to talk about weight and obesity, especially with children, has a significant impact in helping young patients feel empowered instead of body-shamed.
"As a pediatrician, I don't want kids focused on numbers (like those on a scale or calorie counting)," she said. "That can be very detrimental in terms of their mental health and can put them at-risk for eating disorders. I focus on lifestyle habits because that will help to result in better health outcomes across the board."
Debunking myths
Dr. Huff educates her patients so that they have what they need to prioritize healthy habits. In some cases, that means debunking common myths that patients take at face value, such as fruits, vegetables, and healthy eating being more expensive than the standard American diet.
Dr. Huff digs into common myths by giving parents factual alternatives. "For families living in food deserts, the corner store or bodega may have fresh fruit that actually is more expensive, not to mention poorer in quality." In those cases, Dr. Huff counsels her patients on frozen and canned options that offer nutrients and help them maintain a healthy weight. She also reminds them of the benefits of the Special Supplemental Nutrition Program for Women, Infants, and Children (WIC) and Supplemental Nutrition Assistance Program (SNAP), which can be used to buy fresh produce.
While Dr. Huff's treatment approach is undoubtedly family-centric, it is also culturally competent. She understands the reality of her families, many of whom are juggling multiple priorities to obtain the basic necessities in life. Since convenience is most accommodating, Dr. Huff works within that framework when treating her patients, offering a tailored approach based on their unique needs.
"I'm not going to tell a patient to buy fresh fruits and vegetables if they are living in a community shelter and [they] don't have access to a kitchen," she said. "Instead, I may recommend that my patients who are experiencing housing insecurity replace juice beverages with water, which is a huge gain in curbing a high-sugar habit that contributes to obesity."
It takes a village
Fortunately, at Children's National, where Dr. Huff practices, she is able to partner with social work colleagues who can help families navigate their social needs. In addition, she refers families experiencing food insecurity to resources like local food pantries or supplemental nutrition programs. Dr. Huff also guides families on how to take advantage of their health insurance benefits, some of which may offer nutrition workshops and low-to-no-cost gym memberships.
Dr. Huff, who is an underrepresented in medicine (UIM) physician, finds it most rewarding to help people who look like her. Pediatrics and its intersection of prevention, education, and advocacy gives Dr. Huff a unique role in an industry that isn't always equitable.
"Unfortunately, we live in a world where policy changes take time. So what is the fastest path toward better health?" she asks. "Often, it's going to be equipping patients and families with the tools to begin making lifestyle changes today and connecting them to community-level resources that can support them along the way. All the while, we must continue to demand change in upstream drivers that will make the path to better health a more attainable reality for everyone. "
Dr. Huff is a Washington, DC-based pediatrician, owner of Sprouting Wellness and incoming co-chair of the American College of Lifestyle Medicine's HEAL (Health Equity Achieved through Lifestyle Medicine Member Interest Group.
As he made changes to his own lifestyle habits, Dr. Turner started talking to a nutritionist colleague at the Mayo Clinic who mentioned ACLM, the nation's medical professional society representing clinicians dedicated to a lifestyle medicine. ACLM defines lifestyle medicine as the evidence-based use of a predominantly whole food, plant-based diet, physical activity, restorative sleep, social connection, avoidance of risky substances and stress management. ACLM, which represents more than 7,000 physicians and other clinicians, is the only organization that educates, equips, and supports certification of physicians and other clinicians in lifestyle medicine.
Dr. Turner began talking to patients about their lifestyle habits and explaining the evidence that supported how changes could improve their whole health. During clinical rounds, he visited patients with lifestyle-health related books that could benefit their specific health ailment. Resident doctors accompanying him on rounds would say afterward "I've never seen anyone do that before. Can you show me the books you're using?"
For patients who committed to lifestyle behavior changes, the results were at times astonishing. Patients suffering from severe hypertension enjoyed dramatic decreases in blood pressure and, subsequently significantly reduced the antihypertension medication they required. Patients with chronic kidney disease, diabetes or advanced atherosclerotic vascular disease stabilized their kidney function and did not progress to the point of needing dialysis. Patients with a history of kidney stones were able to prevent stone growth and new stone formation.
At times, Dr. Turner took good-natured ribbing from colleagues — "Here comes Turner with his veggies." But as health care spending soared, the pandemic raised awareness of the risks of chronic lifestyle-related disease and the evidence grew proving the therapeutic power of lifestyle medicine, interest in the field exploded. ACLM, which had 500 members in 2014, has grown to more than 9,000 practicing in the field. Large health systems are increasingly integrating a therapeutic dose of lifestyle medicine into patient care, employee health and their broader communities.
"Interest in lifestyle medicine is growing not just among clinicians and health systems but among patients who are increasingly understanding that they can make a big difference in their health with small lifestyle changes," said ACLM President Dr. Cate Collings, MD, MS, FACC, DipABLM. "Dr. Turner's generous gift to ACLM will help more clinicians gain the knowledge and skills to practice lifestyle medicine and partner with their patients take control of their heath."
The time is now for lifestyle medicine to become the foundation of health and health care, Dr. Turner said. He hopes his gift to ACLM can help build that foundation.
"ACLM has really become my intellectual home," Dr. Turner said. "I truly believe lifestyle medicine is the most positive thing happening in the medical space. I am excited to do my part to keep that positive momentum going."
The HEAL scholarship was created to provide an avenue for BIPOC healthcare professionals to explore lifestyle medicine as a specialty and help diversify the lifestyle medicine workforce.
read more