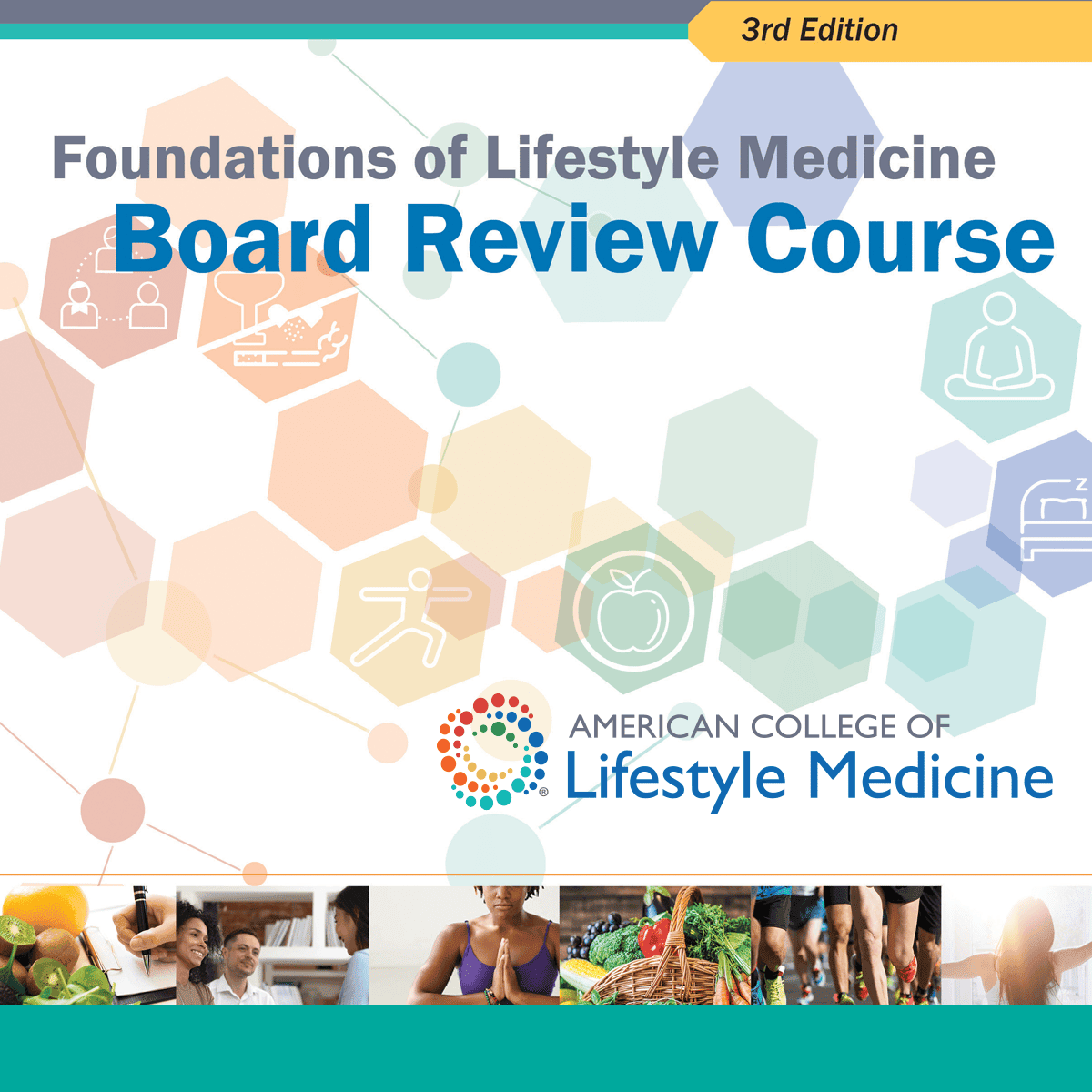 Foundations of Lifestyle Medicine Board Review – 30 hours CME | CE
30 CME | CE CREDITS
$899 – Nonmembers
$674.25 – Member (25% reduction)
Course available in Spanish, Chinese, and Korean
Description
The Foundations of Lifestyle Medicine Board Review Course 3rd Edition is an evidence-based course designed to provide a review and successfully prepare candidates for the American Board of Lifestyle Medicine (ABLM) Certification Exam (ABLM.org/how). This course development was led by coauthors and faculty John Kelly, MD, MPH, LM Specialist and Jeni Shull Clayton, MD, MPH, DipABLM, with additional support from subject matter experts in the field of lifestyle medicine.
Learning Objectives
Review the pillars of evidence-based lifestyle medicine and how it can prevent, treat and reverse disease.
Review evidence-based lifestyle medicine prescriptions and their clinical application.
Review evidence-based lifestyle medicine content that will be tested on the Lifestyle Medicine Board Certification Exam.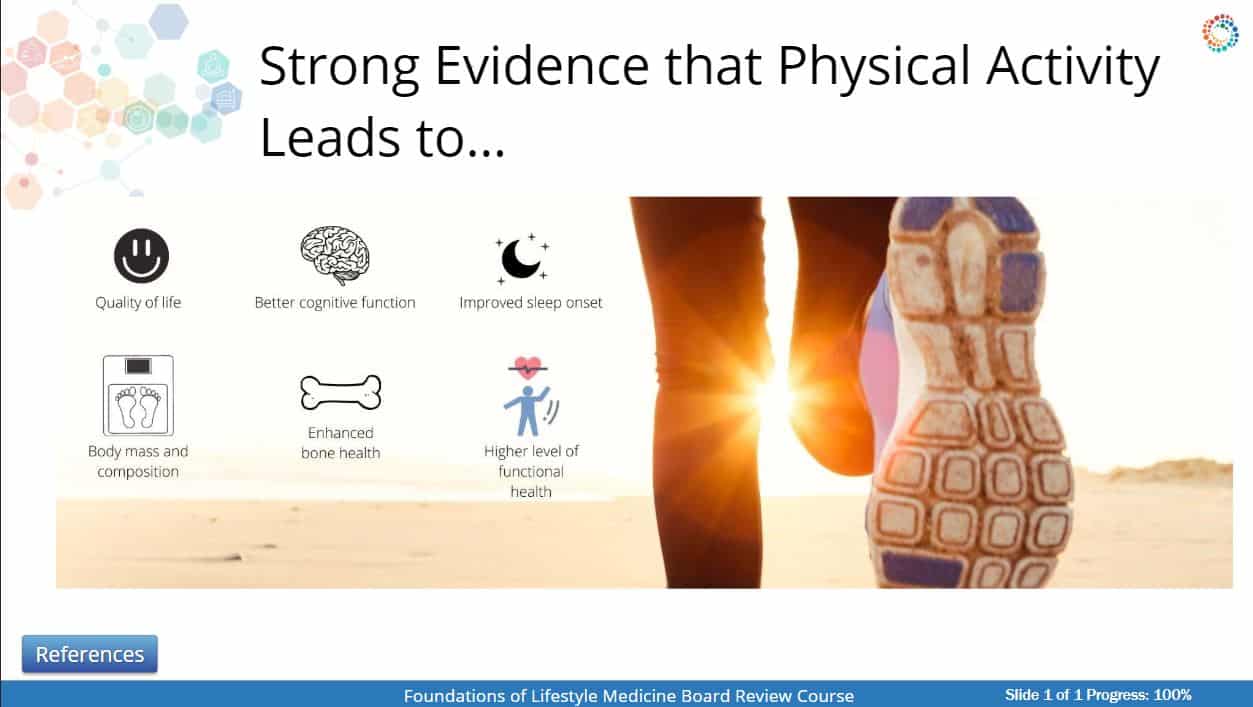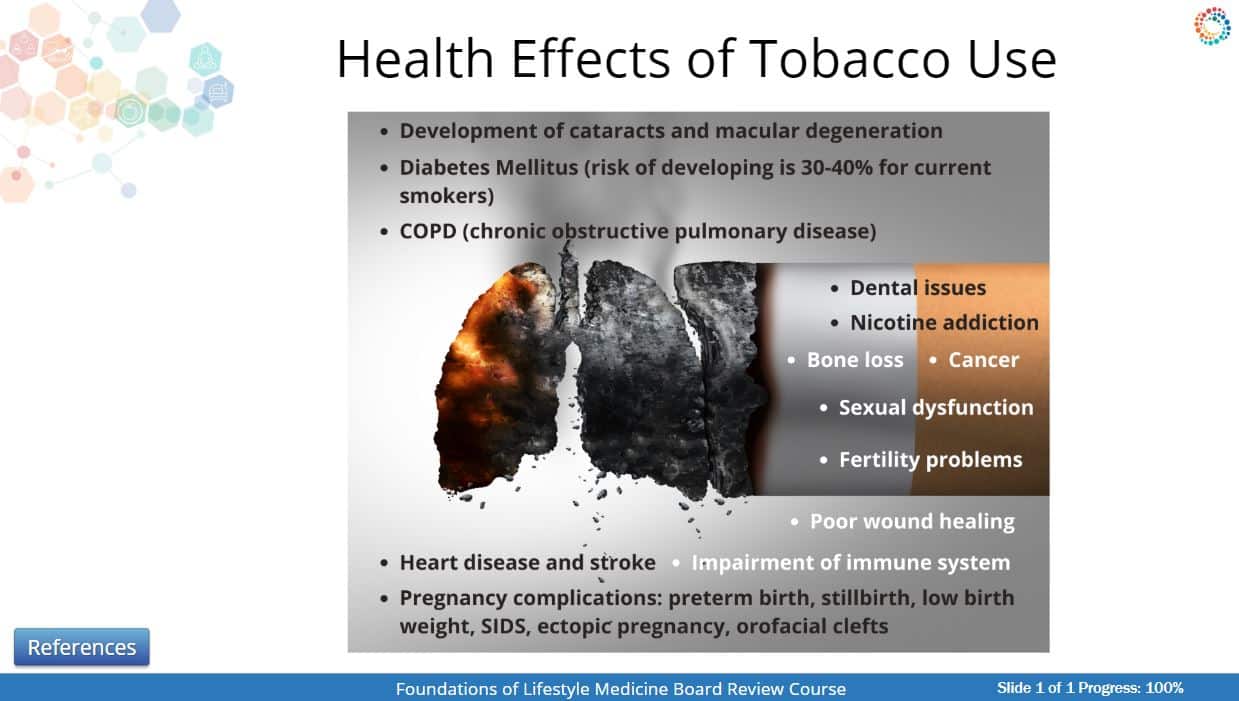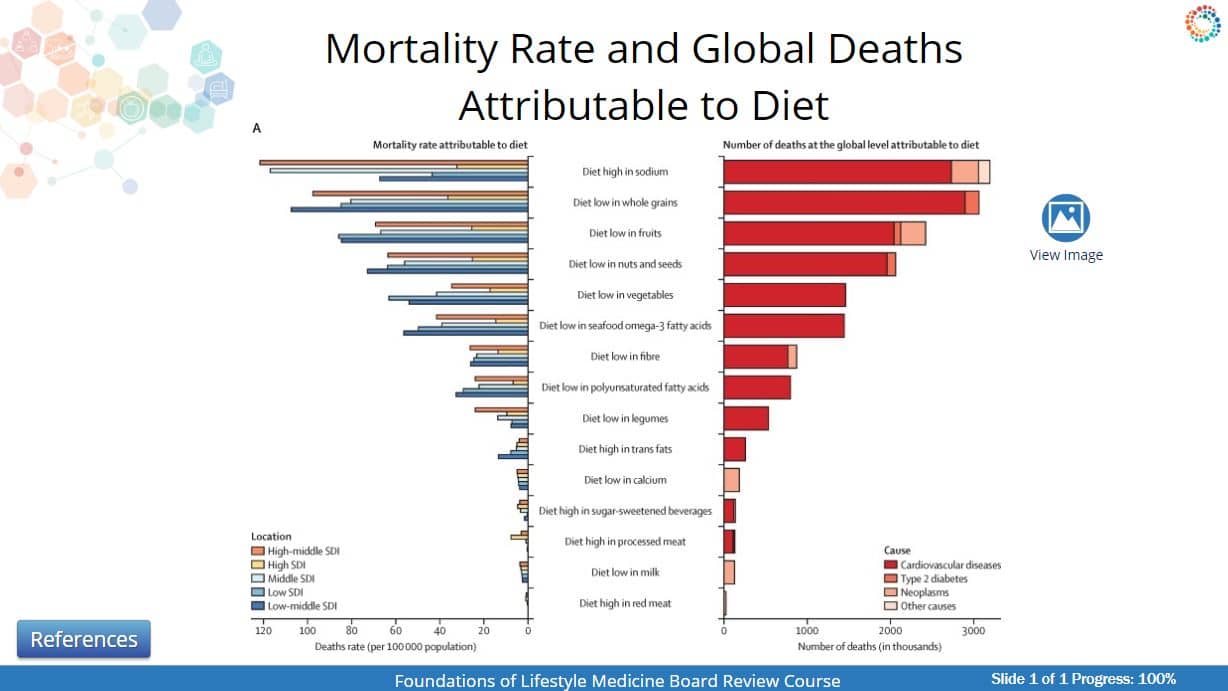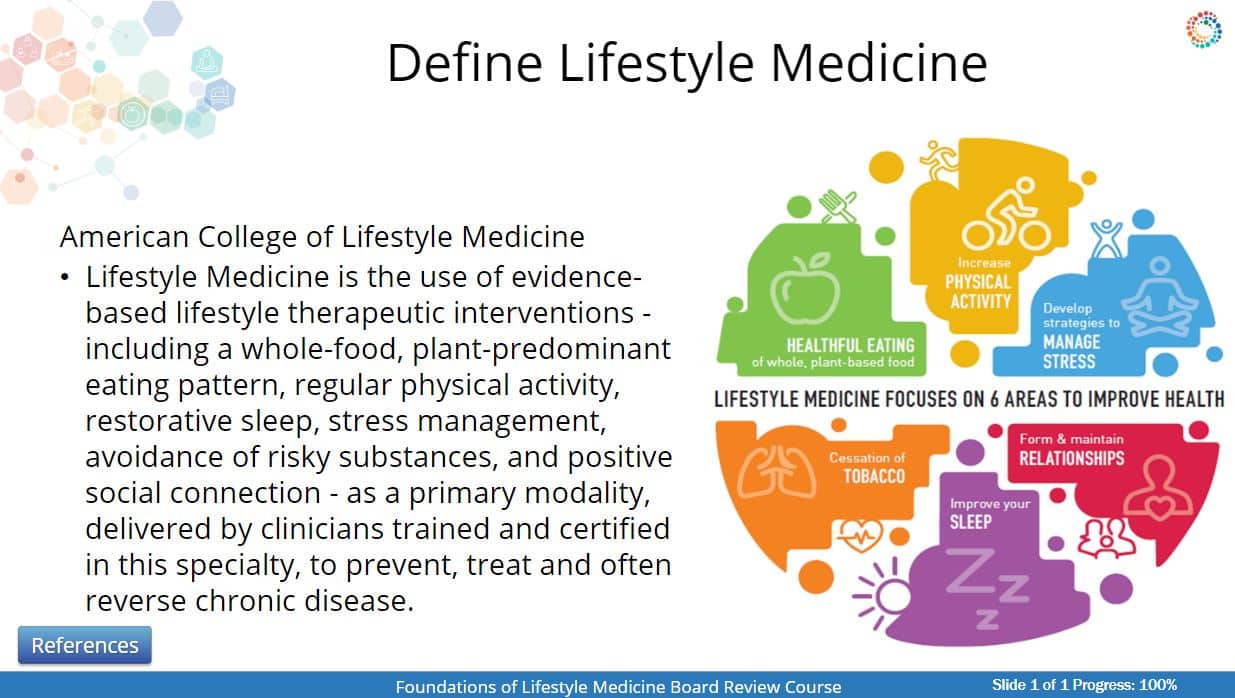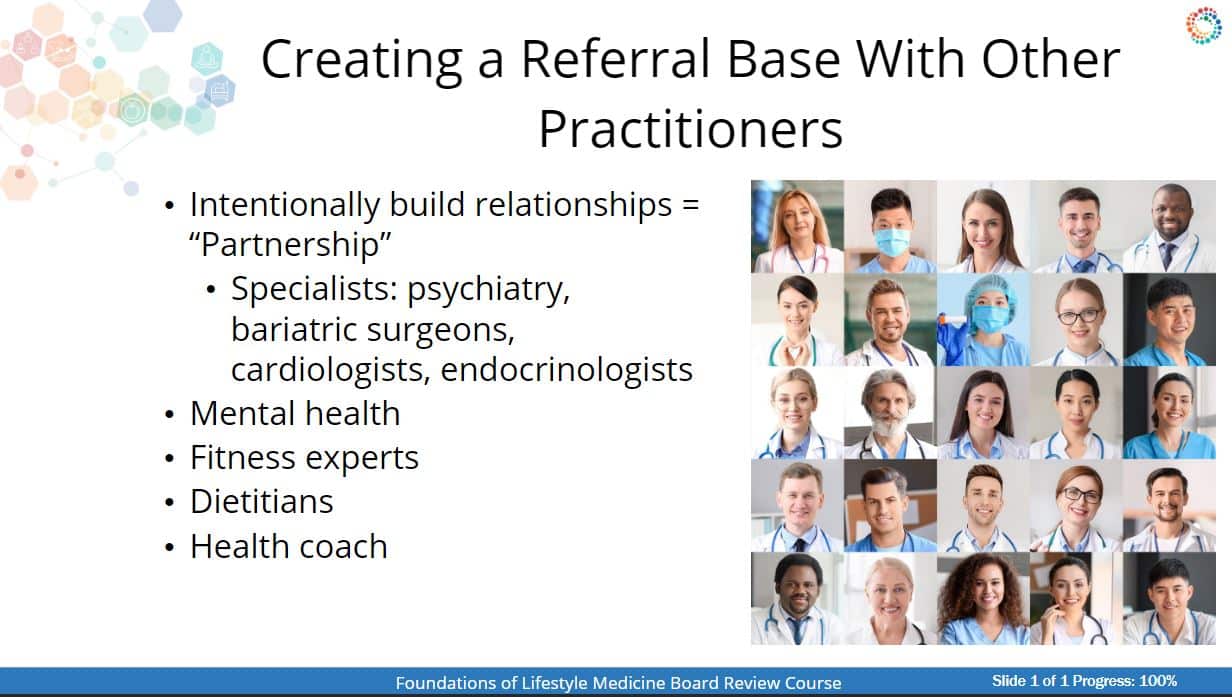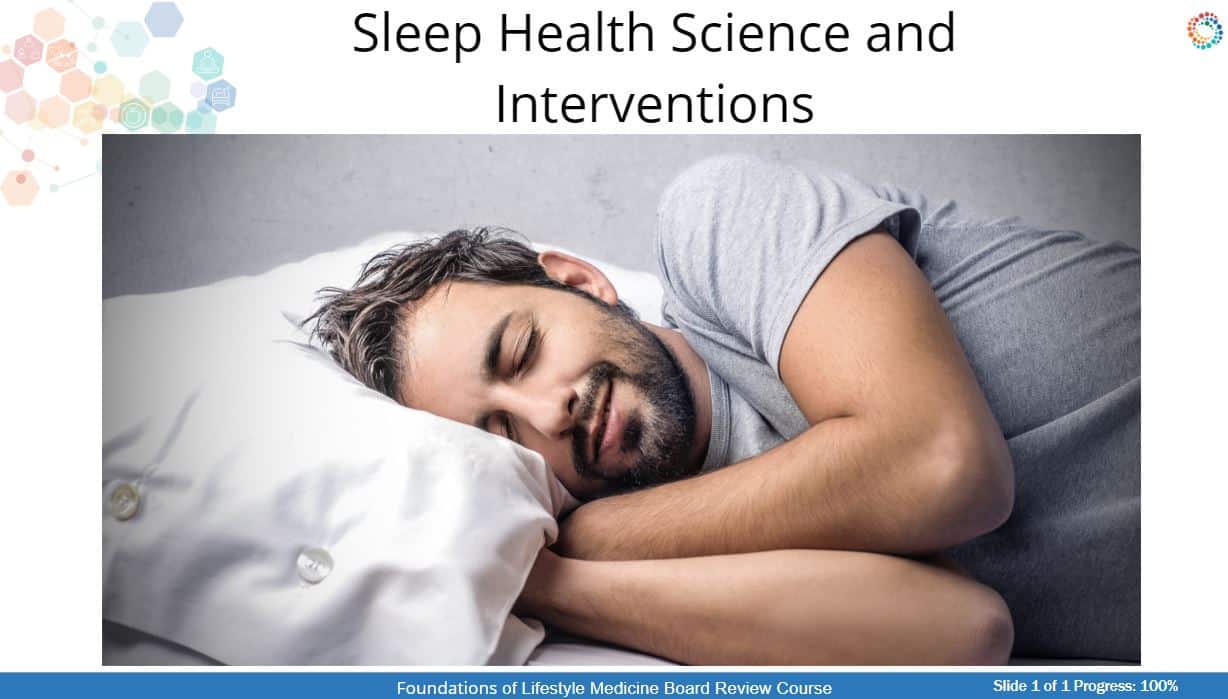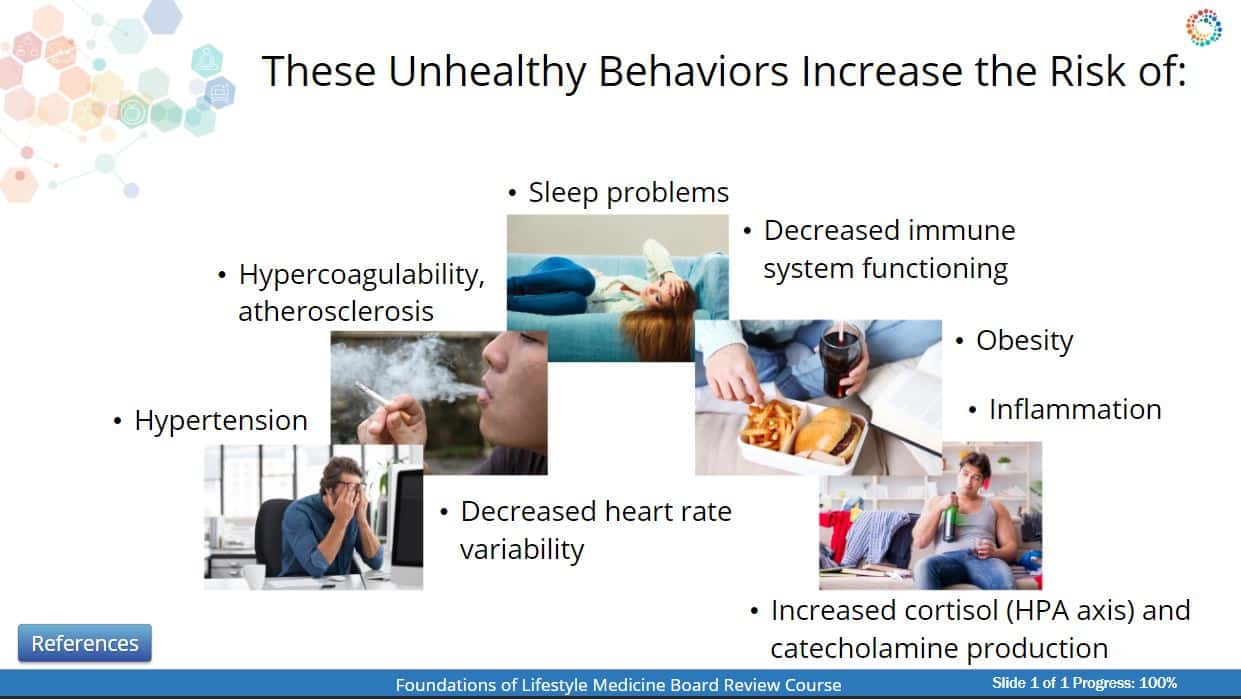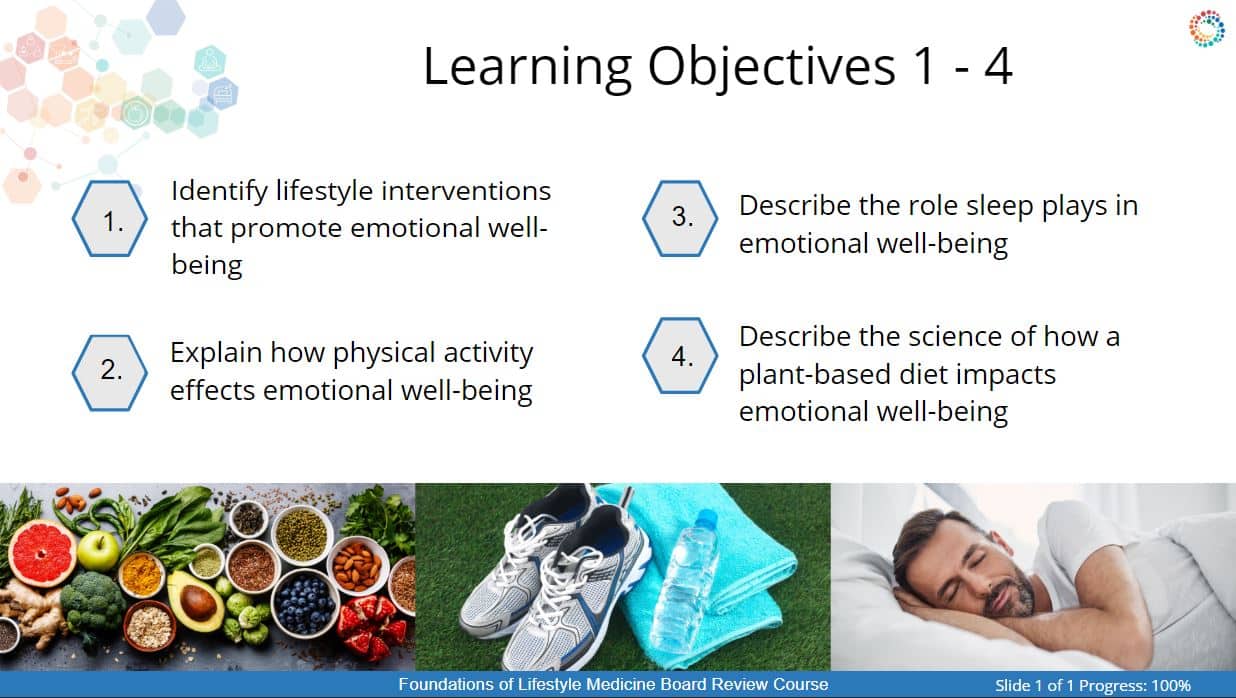 Board Review Options
Credits – Two Options
Option 1 – 30 CME/CE Credits (Full Accreditation information listed in the Accreditation dropdown)
Option 2 – NO CME/CE Credits
Course Format
Course Format 
The Foundations of Lifestyle Medicine Board Review, 3rd Edition is hosted online via the ACLM Learning Management System (LMS) and consists of 3 main components: 
COMPONENT 1 – Board Review Course Manual and Quiz Questions (20 hours): The Board Review Course Manual is available in printed form and online within the ACLM learning management system. The manual consists of 10 sections, lifestyle medicine key articles, appendix, index, detailed graphics, tables and figures, and over 120 quiz questions. Each of the ten sections have corresponding quiz questions available to complete in the paper copy of the book and online via the ACLM LMS.
COVID-19 UPDATE: International shipments of the Board Review manual may take 4-8 weeks based on when the order was placed and where the book is being sent.  Unfortunately, these current shipping delays are out of our control. If your book has not arrived within 8 weeks after purchase, please let us know. Currently there are a small group of countries that are not accepting packages. For a current list of suspended countries visit USPS.com
COMPONENT 2 – Key Lifestyle Medicine Articles and Quiz Questions (2 hours): The manual also includes 9 Key Lifestyle Medicine Article Summaries with 2 corresponding review questions each. This course component will account for 2 hours.
COMPONENT 3 – Online Review Lectures (8 hours): There are 10 review lectures with corresponding questions. This course component will account for 8 hours. Review Lectures correspond with each of the manual sections.
Duration 
20 hours for reviewing manual and answering corresponding review questions
2 hours for reviewing article summaries and answering corresponding review questions
8 hours for reviewing 10 online section lectures and answering corresponding review questions
Specifications 
This course can be viewed on desktop, tablet or mobile device. Speakers or headphones are required for this course. The eBook can be viewed within the learning management system.
Term of Approval
April 6, 2021 – April 6, 2023 
Enrollment
Access to course: access to the current course edition and online material is granted through the term of approval which ends April 6, 2023. As new editions of the course launch and replace previous editions, those enrolled within 2 years of the new edition launch will be granted complimentary online access to the new version with the opportunity to purchase the updated printed manual for $99.

Faculty
John Kelly, MD, MPH, LM Specialist
Dr. Kelly completed his undergraduate studies in Biochemistry and Molecular Biology, graduating Summa Cum Laude as a McMurran Scholar. He completed the Dual MD/MPH Degree Program at Loma Linda in Epidemiology with honors. He is trained in Preventive and Lifestyle Medicine, and has done private and government-funded research in Lifestyle Medicine. He was founding President of the American College of Lifestyle Medicine, co-authored ACLM's Official Board Review Course in Lifestyle Medicine, co-chairs ACLM's Expert Panel, and serves as adjunct faculty at Loma Linda University. He currently teaches Lifestyle Medicine nationally using leading-edge intensive LM training programs. 
Jeni Shull Clayton, MD, MPH, DipABLM
Jeni Shull Clayton, MD, MPH, DipABLM, is a Family and Preventive Medicine Physician and a Diplomat of the American and International Board of Lifestyle Medicine. Dr. Clayton graduated from Indiana University School of Medicine. She attended Loma Linda University's Family and Preventive Medicine residency, served as chief resident, complete her Master's in Population Health. She was awarded Resident Teacher of the Year and the Will Alexander Whole Person Care Award. Under Dr. John Kelly, founder of the American College of Lifestyle Medicine (ACLM), she became the first Lifestyle Medicine Fellow at the Black Hills Health and Education Center. She has co-authored the Foundations of Lifestyle Medicine Board Review Manuel and Course with Dr. Kelly and ACLM. Currently, she serves as the medical director of Well Life by Schneck in Seymour, Indiana. Dr. Clayton recently got married and enjoys hiking with her new husband, cooking, and spending time with her family.
Kayli Anderson, MS, RDN, ACSM-EP, DipACLM
Kayli Anderson has devoted her career to helping people find peace with food and approach nutrition in a way that maximizes their enjoyment, health, and wellbeing. As a culinary-trained dietitian, Intuitive Eating Counselor, and Exercise Physiologist, Kayli guides people on their food journey through cooking instruction, mindfulness practices, and lifestyle medicine. She works with women in all stages of life including fertility, pregnancy, postpartum, sports performance, disordered eating, and weight concerns at kaylianderson.com. Kayli is Lead Faculty for the ACLM's Food as Medicine course, the Lifestyle Medicine Residency Curriculum, the Lifestyle Medicine Core Competencies Program, and Subject Matter Expert for the ABLM Review course. Kayli co-authored the nutrition chapters of the Lifestyle Medicine Handbook and Improving Women's Health Across the Lifespan. She is the nutrition consultant for The Plantrician Project and lead author of their Plant-Based Nutrition Quick Start Guide. She earned her B.S. in Nutrition & Dietetics and her M.S. in Nutrition and Physical Performance from Saint Louis University, and now lives in Colorado. 
Jonathan Bonnet, MD, MPH, CAQSM, FAAFP, FACLM, DipABLM
Jonathan Bonnet is a board-certified Family, Sports, Obesity and Lifestyle medicine physician with a master's degree in public health from Harvard.  He works as a Sports Medicine physician at Emory University and at the Atlanta VA Medical Center. Jonathan has a background in exercise physiology and is a certified personal trainer.  He completed his undergraduate and medical school degrees at Ohio State University before finishing his Family Medicine residency at Duke University, and his Sports Medicine Fellowship at the University of Florida. 
Jonathan served on the board of the American College of Lifestyle Medicine from 2014-2016 and is currently on the editorial board of the American Journal of Lifestyle Medicine.  He has published research in sleep medicine, nutrition, sports and exercise, obesity, and behavior change.  He has been a teaching assistant at the Harvard Extension School and helped teach Duke University's Prevention Course Workshop for medical students.  He has received numerous awards, including teaching awards from Duke University's Family Medicine Department and from the Society of Teachers of Family Medicine. 
Stephen Carek, MD, CAQSM, DipABLM
Stephen Carek is a Family Physician with Prisma Health and a faculty for the Prisma Health Family Medicine Residency Program in Greenville, SC. He is originally from Mount Pleasant, SC, and attended Clemson University where he majored in Genetics. He attended medical school at the Medical University of South Carolina, completed residency in Family Medicine at Atrium Health in Charlotte, NC, and completed a primary care sports medicine fellowship at the University of Florida in Gainesville, FL. He currently serves as the Medical Director for the Center for Family Medicine in Greenville, SC, and teaches at the USC School of Medicine Greenville. He has won several awards for research and teaching excellence. His clinical interests and research include quality improvement, population health, social determinants of health, and lifestyle medicine.  
Param Dedhia, MD
Param Dedhia, MD is a curious internal medicine doctor and passionate integrative medicine practitioner.  As a sought after speaker and physician, he translates medical science into our everyday lives.  Through a personalized approach, he partners with people from all walks of life.  His goal is to connect us to our best health and the life we want to live.
Following his medical education at Michigan State University, Param has become board certified in Internal Medicine, Sleep Medicine and Obesity Medicine. Moreover, he has been fellowship trained in Geriatric Medicine and Integrative Medicine. During his tenure at Hopkins, the medical students, nursing staff, and fellow health care providers recognized him with awards as a top teacher and MVP ("most valuable provider').  These continue to mean so much to him. 
Param spent over twelve years at Canyon Ranch as an integrative medicine doctor.  While collaborating with a wide range of health care experts, his comprehensive philosophy is deeply rooted in partnering with people and their health care goals. His medical practice and lecturing explores the connection to nutrition, exercise, mindfulness and sleep towards optimal health. 
With his family background from India, Param loves to bridge eastern and western philosophies.  With this, he bridges traditional wisdom to modern science. He is forever curious about the world and is widely travelled.  Any book by Malcolm Gladwell makes him smile. If there is a destination or book that he needs to put on his list, please let him know.  Since he was young, he lives by the saying: "Know Thyself." Param is nourished by friends and family, rejuvenated by music and dance, and inspired by kindness and wit. 
Micaela Karlsen, PhD, MSPH
Micaela Karlsen, PhD, MSPH serves as Sr. Director of Research for the American College of Lifestyle Medicine. She is a co-investigator on the Adhering to Dietary Approaches for Personal Taste (ADAPT) Study from Tufts University and also Adjunct Faculty for the University of New England Master' Programs in Applied Nutrition and Global Public Health. Dr. Karlsen is the author of A Plant-Based Life and a contributor to the New York Times bestseller Forks Over Knives: The Plant-Based Way to Health. She created and maintains PlantBasedResearch.org, an online library of original, peer-reviewed research studies relevant to plant-based nutrition. Her expertise is in dietary patterns, plant-based nutrition and nutritional adequacy, and predictors of successful behavior change. She holds a PhD in Nutritional Epidemiology from the Tufts Friedman School of Nutrition Science and Policy and a Masters degree in Human Nutrition from the Johns Hopkins School of Public Health. She lives near Ithaca, NY with her husband and their two children. 
Jessica Matthews, DBH, MS, NBC-HWC, DipACLM
Jessica Matthews, DBH, MS, NBC-HWC, DipACLM, is assistant professor and director of the Master of Kinesiology in Integrative Wellness program at Point Loma Nazarene University. An award-winning instructor and innovative educator, she has developed and implemented graduate degree and professional certificate programs at several colleges, in addition to creating and teaching a variety of graduate courses in areas such as integrative health and lifestyle medicine.  
A national board-certified health and wellness coach (NBC-HWC) and member of the board of directors for the National Board for Health and Wellness Coaching (NBHWC), Dr. Matthews serves as director of integrative health coaching in the Centers for Integrative Health at UC San Diego in the Department of Family Medicine and Public Health. She holds a doctorate in behavioral health with a focus in clinical integrated care from Arizona State University as well as numerous professional certifications, including as a personal trainer, group fitness instructor, and experienced registered yoga teacher (E-RYT500).  
A passionate advocate for lifestyle medicine, Dr. Matthews serves as lead faculty in the area of health behavior change for the American College of Lifestyle Medicine (ACLM) Lifestyle Medicine Residency Curriculum and as founding chair of the ACLM Health and Wellness Coaches member interest group. 
Simon Matthews, FASLM, MHlthSci, DipIBLM, MAPS, NBC-HWC 
Simon is a Psychologist and Fellow of the Australasian Society of Lifestyle Medicine. He is Board Certified in Health Coaching and Lifestyle Medicine. He's the CEO of Wellcoaches® Australia and Wellcoaches® Singapore School of Health Coaching.  
He is an Adjunct Lecturer at Avondale College University Lifestyle Medicine & Health Research Centre and is on teaching faculty with Wellcoaches USA. Simon is also Director of Coaching for First in Wellness LLC. He's the Chief Psychologist – Director of Program and Learning Development for the Norwegian company Likevekt Helse. 
In addition, Simon is a Director of the US not-for profit Global Positive Health Institute, which brings together the disciplines of Lifestyle Medicine and Positive Psychology. He is also a Director of the Australian not-for-profit Practice Excellence Institute. 
Simon consults internationally in the areas of health coaching, behaviour change, positive psychology and lifestyle medicine. He presents at national and international conferences and has published and writes regularly about these topics. He's a popular podcast guest.  
When not working, Simon also loves talking about his other passions as a pilot, barista, gardener and self-taught cook.  
Gia Merlo, MD, MBA, DipABLM
Gia Merlo, MD, MBA, DipABLM is a clinical professor of psychiatry and nursing, and senior advisor on wellness at New York University. She serves on the editorial board of the American Journal of Lifestyle Medicine in psychiatry and mental health.
Merlo's academic book, Principles of Medical Professionalism, was released on April 2, 2021, with Oxford University Press. In this book, Merlo includes a chapter on lifestyle medicine and describes its intersection with medical professionalism. Merlo is co-editor of Nursing Lifestyle Principles and Practice, a forthcoming book that is part of Dr. James Rippe's Lifestyle Medicine series.  
In 2020, she was elected to the Board of Directors of Plant Powered Metro New York after serving on the Advisory Medical Board in 2019. Dr. Merlo has served on various boards including Board Member of the Academy of Professionalism in Health Care where she served as the Chair of the 2017 Annual Meeting in Chicago, Children's Hospital of Philadelphia Alumni Board, the board of directors for Laurel House, a non-profit organization, and the Board of Directors for Child Advocates of Houston, a non-profit dedicated to lifesaving advocacy that helps abused and neglected children.  
Prior to joining NYU, Merlo was associate dean of health professions, professor in the practice, and founding director of the medical professionalism program at Rice University since 2014. She also taught medical students, residents, and fellows at Baylor College of Medicine where she was a 2017-19 Master Teacher Fellow. In the past, she served on the faculty at the University of Pennsylvania School of Medicine and the Children's Hospital of Philadelphia. 
In 2018, Merlo was chosen as one of Houston's 50 Most Influential Women by Houston Woman Magazine. 
Neil Nedley, MD
Neil Nedley, MD, is founder and medical director of the Nedley Depression and Anxiety Recovery Programs, and "Optimize Your Brain" program designed to enhance emotional intelligence. Dr. Nedley is an award-winning practicing physician who also serves as President of Weimar Institute, a higher education college that houses the world-famous NEWSTART program and the residential and outpatient Depression and Anxiety Recovery Program. He has presented and published numerous scientific studies in the medical/scientific literature and is well known as a public speaker and teacher throughout the world. He is the author of Proof Positive, Depression—the Way Out, The Lost Art of Thinking, and Optimize Your Brain. Dr. Nedley pioneered the comprehensive Depression and Anxiety Recovery Programs, with options for home-based online versions, community facilitator coached programs, and the ten-day live in residential therapeutic program. 
Additionally, Dr. Nedley is a board-certified Internal Medicine specialist with an emphasis in the difficult-to-diagnose patient, gastroenterology, and mental health. He hosts the annual Emotional Intelligence Summit with global speakers and participants. He currently is an Adjunct Clinical Professor of Medicine, at Loma Linda University and serves on the constituency of Loma Linda University and the Corporate Board of Andrews University. Dr. Nedley and his wife Erica have four sons. He enjoys hiking in nature with his family, piloting his own aircraft, snow skiing, and listening to sacred and classical music. Nothing is as enjoyable to Dr. Nedley, however, as helping people from the depths of depression and anxiety to the pinnacle of success and fulfillment. 
Jill R. Selzle, PA-C, MPAS, RVT, DipACLM
Jill Selzle is a physician assistant in the Division of Cardiothoracic Surgery at Nebraska Medicine.  Jill graduated from the University of Nebraska Medical Center's Physician Assistant program in 2005 and has since worked in Cardiovascular and Thoracic Medicine.  She obtained her Tobacco Treatment Specialty Certification from Mayo in October of 2013.  She holds a National Certificate in Tobacco Treatment Practice from the NAADAC-Association for Addiction Professionals and has been a member of the National Comprehensive Cancer Networks Clinical Practice Guidelines in Oncology for Smoking Cessation Panel since 2015.  Jill works as a surgical physician assistant on the Thoracic Surgery team and also leads the clinical aspect of the Nebraska Medicine Tobacco Cessation Program.  Jill has a true passion for making patient's lives better and that means helping them find tools and inspiration to battle tobacco addiction.  She offers evidence based cessation therapies, including pharmacotherapy options, cognitive behavioral change discussion, and motivational interviewing techniques to guide and assist patients through their goal of health behavior change.  Jill's passion for lifestyle medicine stems from her desire to empower patients to embrace wellness, face challenges, and strive for healthy balanced lives.  Jill enjoys playing new sports (spike ball anyone?), outdoor adventure, and spending time with her family and friends.     Life is about living, so she believes let's live it well! 
Frequently Asked Questions
What are the credentials of the curriculum authors? 
The authors of this course are clinical subject matter experts in their fields, including faculty who are board-certified in lifestyle medicine, internal medicine, preventive medicine, family medicine, obesity medicine, psychiatry, sleep medicine, sports medicine, health and wellness coaching. They have achieved professional clinical degrees and have substantially contributed to the research and advancement of the lifestyle medicine profession.
What does it mean that the curriculum is evidence based? 
The curriculum was designed based on a collection of the national guidelines as well as foundational and updated research for each content area. In addition, the recommendations of national professional societies are incorporated, as well as the core peer-reviewed journal articles that contribute to the evidence base in this field.
Who will benefit from this course?
The Foundations of Lifestyle Medicine Board Review course is designed to provide a review and prepare candidates to sit for and successfully pass the lifestyle medicine board certification exam. It is applicable to physicians, physician assistants, registered nurses, nurse practitioners, pharmacists, registered dietitians, and others seeking to become certified in lifestyle medicine.
What is the format of the content? 
This self-study review course consists of a Lifestyle Medicine Board Review Manual (available in print form and accessible online in the online course). The manual includes 10 sections that align with the ABLM competencies, and includes an index, key lifestyle medicine research summaries, detailed graphics, tables and figures, more than 120 review questions and covers the information from which questions are written for the American Board of Lifestyle Medicine Certification Exam. This course also includes 10 section lectures. The course is completed online via the ACLM learning management system. Users are able to go through the voice-over presentations and complete corresponding quizzes at their own pace.
Is this content accredited for CME? 
This course is available as a non-CME/CE accredited course and as a CME/CE accredited course.
*Please Note: The Foundations of Lifestyle Medicine: Lifestyle Medicine Board Review Course, 3rd Edition (with 30 CM/CE credits) is approved by the American Board of Lifestyle Medicine (ABLM) in order to fulfill the 30 hour online CME prerequisite. The non-CME accredited course does not serve as a prerequisite for the ABLM exam. For more questions about ABLM prerequisites, please visit ablm.co or contact info@ablm.co
Will I receive a certificate of completion? 
All participants who complete the 30-hour CME/CE accredited course and pass the post-module evaluations will be eligible to receive an online CME/CE certificate of completion.
I'm a registered nurse, registered dietitian, physician assistant, physical therapist, occupational therapist, respiratory therapist, social worker, speech therapist or audiologist; may I receive credit for this content?
Yes! 
How recent is the content? 
The program was developed and launched April 6, 2021. The content reflects the recent work in this field.
How long do I have access to the content? 
Course purchasers will have access to online material is granted through the term of approval which ends April 6, 2023.
If you're interested in more information about lifestyle medicine or lifestyle medicine training, contact education@lifestylemedicine.org.
As an international (non-US) exam taker, which course should I take—the 30 CME/CE version or the no CME/CE version?
The No CME version is sufficient for international (non-US/Canada) exam takers to fulfill the International Board of Lifestyle Medicine (IBLM) 30 online CME prerequisite to sit for the IBLM exam. All that is required is the certificate of completion.
Accreditation
In support of patient care, Rush University Medical Center is jointly accredited by the American Nurses Credentialing Center (ANCC), the Accreditation Council for Pharmacy Education (ACPE), and the Accreditation Council for Continuing Medical Education (ACCME) to provide continuing education for the healthcare team. 
Rush University Medical Center designates this live activity for a maximum of 30 AMA PRA Category 1 Credits™. Physicians should claim only credit commensurate with the extent of their participation in the activity. 
This activity is being presented without bias and without commercial support. 
ANCC Credit Designation – Nurses 
The maximum number of hours awarded for this CE activity is 30 contact hours. 
Rush University is an approved provider for physical therapy (216.000272), occupational therapy, respiratory therapy, social work (159.001203), nutrition, speech-audiology, and psychology by the Illinois Department of Professional Regulation.  
Rush University designates this live activity for 30 Continuing Education credits. 
Rush University Medical Center designates this knowledge based CPE activity for 30 contact hours for pharmacists. 
Rush University designates this internet enduring material for 30 CE credits in psychology. 
The Commission on Dietetic Registration accepts self-study programs approved through ACCME. 
The ABLM and IBLM has reviewed and approved the Foundations of Lifestyle Medicine Board Review Course as a qualifying prerequisite to sit for the ABLM exam. 
The AAFP has reviewed the Foundations of Lifestyle Medicine Board Review Course and deemed it acceptable for up to 30.00 Enduring Materials, Self-Study AAFP Prescribed credit. Term of Approval is from 04/01/2021 to 04/01/2023. Physicians should claim only the credit commensurate with the extent of their participation in the activity. 
Successful completion of this CME activity, which includes participation in the evaluation component, enables the participant to earn up to 30 MOC points in the American Board of Internal Medicine's (ABIM) Maintenance of Certification (MOC) program. Participants will earn MOC points equivalent to the amount of CME credits claimed for the activity. It is the CME activity provider's responsibility to submit participation completion information to ACCME for the purpose of granting ABIM MOC credit. 
The National Board for Health and Wellness Coaching (NBHWC) has approved 30 continuing education credits for this learning activity: CE-000071-1.
Faculty Disclosures
It is the policy of the Rush University Office of Interprofessional continuing Education to ensure that its CE activities are independent, free of commercial bias and beyond the control of persons or organizations with an economic interest in influencing the content of CE.  Everyone who is in a position to control the content of an educational activity must disclose all relevant financial relationships with any commercial interest (including but not limited to pharmaceutical companies, biomedical device manufacturers, or other corporations whose products or services are related to the subject matter of the presentation topic) within the preceding 12 months. 
Unapproved Uses of Drugs/Devices:  In accordance with requirements of the FDA, the audience is advised that information presented in this continuing medical education activity may contain references to unlabeled or unapproved uses of drugs or devices.  Please refer to the FDA approved package insert for each drug/device for full prescribing/utilization information. 
The course directors, planners and faculty of this activity have stated they have no relevant financial relationships to disclose.