Why get certified in lifestyle medicine? Ask these four clinicians
A physician, a doctor of nursing practice, a physician associate and a pharmacist share how certification enhanced their medical practice and their careers.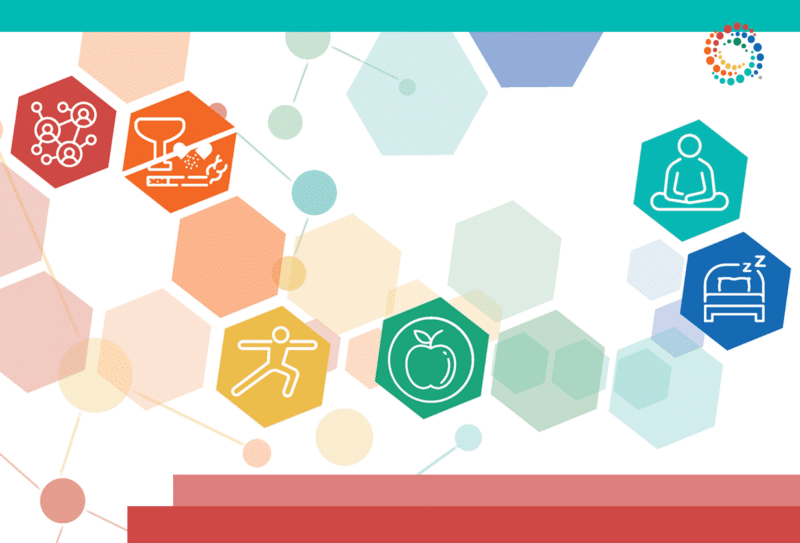 Elizabeth Simkus, DNP, FNP-C, DipACLM, wanted to learn the best scientific evidence to help her patients transform their lifestyles.
Margarita Schneider-Munoz, MD, DipABLM, sought specialized skills to better serve a medically under-resourced, Spanish-speaking community.
Brad Biskup, PA-C, DipACLM, felt it was important to demonstrate to patients and other clinicians that he had achieved a high standard of knowledge and training.
Dawn Woods, PharmD, DipACLM, had the desire to engage with patients in ways far beyond just dispensing medications.
Four clinicians from different health professions but with one thing in common – the passion to become certified to practice lifestyle medicine. Certification indicates one has mastered the science to apply evidence-based, whole-person, prescriptive lifestyle therapies to prevent, treat and, when used intensively, often reverse chronic health conditions. Since certification began in 2017, 2,445 U.S. physicians have become board certified in lifestyle medicine by the American Board of Lifestyle Medicine, with 3,999 physicians certified globally across 72 nations.
The best patient outcomes are the result of interdisciplinary teams practicing lifestyle medicine based off the best scientific evidence. Since 2017, the American College of Lifestyle Medicine has certified 946 non-physician health professionals in the U.S. and 1,255 globally.
"More physicians recognize that utilizing lifestyle medicine to address the root causes of our patients' chronic diseases allows us to become true healers, which is what inspired most of us to become doctors in the first place," said Beth Frates, MD, FACLM, DipABLM, ACLM President and Clinical Assistant Professor at Harvard Medical School. "But certification is not just for allopathic and osteopathic physicians. The most transformative results for patients are achieved when every member of a health care team is trained and certified to practice lifestyle medicine and working together in a coordinated manner with shared goals.  I believe that health care teams such as these, with lifestyle medicine at their foundation, are the future of health care."
ACLM recently released the newly updated Foundations of Lifestyle Medicine Board Review Course 4th Edition, for clinicians preparing to take the certification exam in 2023 and beyond. The course fulfills the 30 hour online CME/CE prerequisite for lifestyle medicine certification, addresses the newly updated and published lifestyle medicine core competencies and includes updates based on expert feedback, evidence-based practice, guidelines and research. Registration for the 2023 exam is open until Sept. 30.
ACLM asked four clinicians from different disciplines to share their stories of why they chose to pursue certification and how earning it impacted their practice, their patients and themselves.
Elizabeth Simkus, DNP, FNP-C, DipACLM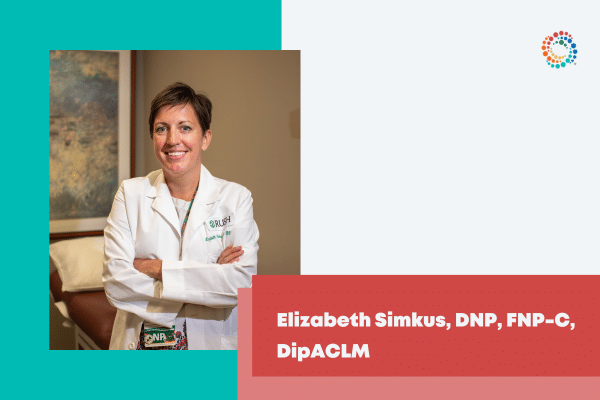 Dr. Simkus saw too many patients at Rush University Prevention Center in Chicago who unsuccessfully tried fad diets or exercise plans but lacked a medical professional to coach them on lifestyle changes based on the best scientific evidence. That's why Dr. Simkus chose to become lifestyle medicine certified in 2020.
"Our clinic's mission is to work with patients and their health care professionals to achieve the best possible health and wellness, including health-related goals that are personally meaningful to patients," she said. "I knew that to be successful in my role, I needed the best evidenced-based interventions I could utilize to empower my patients and the certification pre-requisites would give me that knowledge."
Certification prepared her to integrate coaching into her clinical care and actively listen to patients sharing stories about their lives, families, habits and challenges, she said. She uses motivational interviewing to help patients set SMART (Specific, Measurable, Achievable, Relevant and Time Bound) goals.
The results speak for themselves. The Rush University System for Health follows various quality metrics, including the diabetes quality metric CMS-122. The goal, based on national benchmarks, was to have 18% or fewer patients with type 2 diabetes at an uncontrolled A1c of >/= 9. In 2022, only 9% of those patients Simkus cared for fell into that category. Specialists and primary care physicians regularly refer patients to Dr. Simkus' clinic for help making sustainable lifestyle changes.
Certification also enhanced her professional career. Dr. Simkus credits lifestyle medicine certification for preparing her to succeed in the position of clinic medical director, which she assumed in January.
"I have the privilege of exclusively practicing lifestyle medicine," she said. "Certification was important to achieve optimal patient outcomes and increasing my credibility. We have a strategic plan for growth and optimization at our clinic, and I would not be in this position if not for my lifestyle medicine certification."
Margarita Schneider-Munoz, MD, DipABLM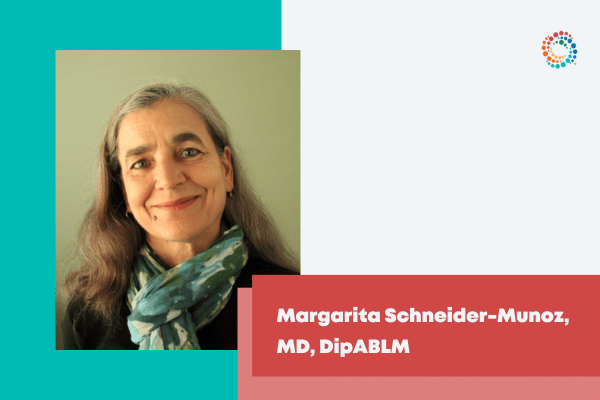 One of Dr. Schneider-Munoz's goals at San Ysidro Health Center in San Diego, just blocks from the Mexico border, is convincing patients that a family history of disease does not mean they are destined for a life of illness. 
"As is typical of people who suffer income and cultural challenges, my family history was rife with early breast cancer and heart attacks," Dr. Schneider-Munoz said. "And I discovered that certification in lifestyle medicine equipped me with the tools and knowledge to help people like myself and my extended family defy legacies of disease and often even thrive in good health." 
The largely Spanish-speaking patient population that Dr. Schneider-Munoz serves has a high rate of type 2 diabetes and fatty liver disease. Health literacy is low, which is why she keeps a set of measuring cups in the exam room to demonstrate food measurements. The barriers to a healthy lifestyle in under-resourced communities are often wide ranging: housing and employment insecurity, food deserts, lack of transportation, cultural differences and more. 
Clinicians cannot solve all of those problems, but an empathetic and diverse workforce of lifestyle medicine-certified clinicians can relate to different cultures and help patients craft strategies to alleviate some of them. Dr. Schneider-Munoz was a recipient of a 2022 Health Equity Achieved Through Lifestyle Medicine (HEAL) scholarship, which supports diversification of the clinician workforce and provide financial support for recipients to attain education and certification in lifestyle medicine. 
"I hope for a future in which every patient — no matter who you are or where you are from — is never made to feel like there is nothing they can do to improve their health and instead have the opportunity to reverse disease," she said. "Becoming certified to practice lifestyle medicine ensures you have the knowledge base to help them do that." 
Brad Biskup, PA-C, DipACLM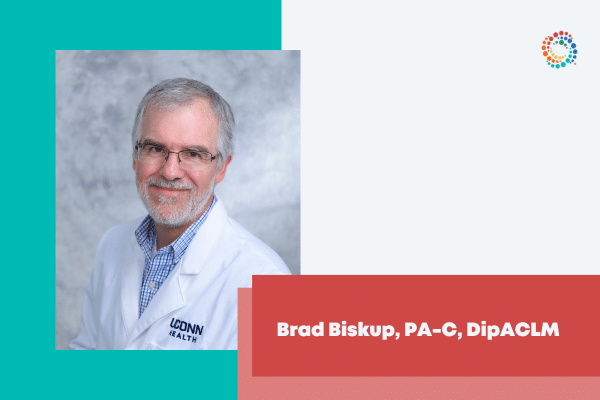 As a physician associate practicing lifestyle medicine since 2010, Biskup had long wished for a certification process for the growing medical specialty. When certification became available in 2017, he did not hesitate to attain it.
"As a lifestyle medicine clinician, I feel it is extremely important to have a standard of care that should be met and the certification does that," Biskup said. "Also, for a PA, the certification shows to patients and other providers that a certain level of expertise in lifestyle medicine has been met."
Although Biskup had already successfully practiced lifestyle medicine, certification expanded his expertise in all six pillars. He believes lifestyle medicine is the art of understanding his patients' lifestyle and helping them identify the tools they need to succeed. He and patients construct unique "to-do" lists together and positivity is key.
Certification ensures clinicians have all available knowledge and tools to help patients achieve their health goals, whether that is reducing their dependence on medications or taking walks with loved ones, he said.
"One of my patients has been able to lose 270 pounds, and we never once discussed his weight," PA Biskup said. "We focused on his nutrition, activity, stress, and sleep. Certification gave me the skills to tap into all the different pillars of lifestyle medicine and help patents be successful."
Dawn Woods, PharmD, DipACLM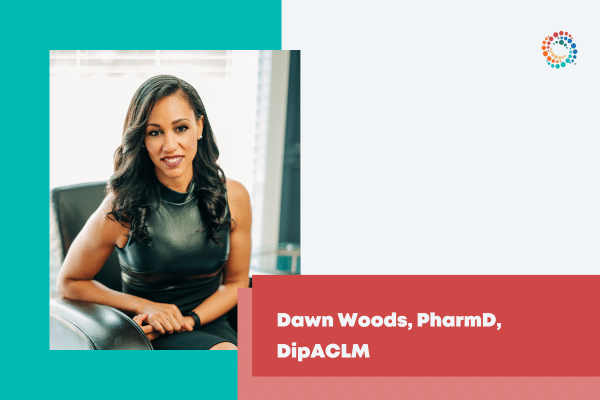 Dr. Woods struggled with poor health throughout childhood and college. After the birth of her second child, she grew tired of feeling unwell and exhausted. She committed to wholesale changes to her lifestyle, lowering her cholesterol by 60 points, improving her blood pressure to 110/70 and losing 40 pounds.
"This personal experience with the healing powers of optimal nutrition led me to pursue my true passion: helping people lead healthier lifestyles and happier lives by being the best, healthiest version of themselves," she said.
Noting that pharmacists are among the most accessible health care professionals for patients, Dr. Woods said certification prepared her to go far beyond discussing medication side effects, contraindications, and the importance of adherence in counseling sessions. She discusses how evidence-based nutrition, stress management, sleep, and physical activity impact health. Her focus is "educating, guiding, and supporting positive behavior change."
With the skills acquired through certification, she has helped patients with type 2 diabetes make lifestyle changes that helped them to stop taking insulin. One patient at a consultation for his diabetes medication expressed frustration that he had been taking it for two years without meaningful improvement to his health. By incorporating lifestyle modifications, he was able to lose 15 pounds and lower his A1c in just two months.
Seeing the positive results, his doctor's reaction was to suggest increasing one of his diabetes medications, but the patient declined and explained that all that had changed was his commitment to lifestyle behavior changes.
"Many people think the pharmacist only dispenses medications," Dr. Woods said. "Pharmacists are not only drug experts, we are also highly knowledgeable in the screening, prevention, and treatment of chronic diseases.  And with lifestyle medicine certification we can help potentially reverse chronic diseases as well."