How One Physician Rediscovered Her Passion Through Lifestyle Medicine 
Endocrinologist Dr. Mahima Gulati was dissatisfied and on the path to burn out until a discovery that transformed how she lived and practiced medicine.
"I felt like I had been living under a rock. How did I not know this? How can I treat people with diabetes and not know the science of lifestyle medicine? I saw that you could become board certified and said 'Ok, I have to do this.' It became my purpose."

– Mahima Gulati, MD, DipABLM, FACLM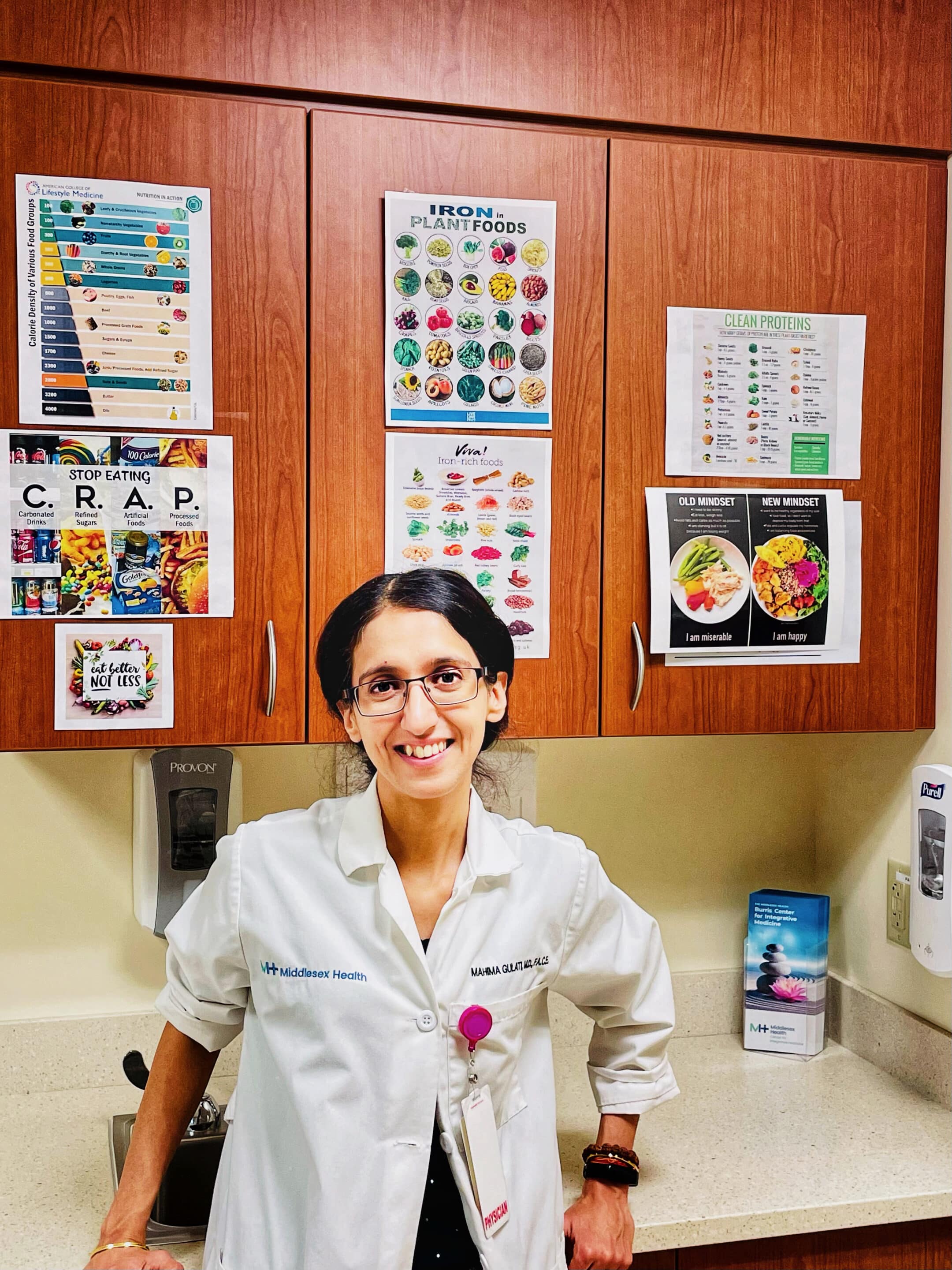 Mahima Gulati, MD, DipABLM, FACLM, was at her lowest point when a chance encounter transformed how she approached medicine–and her own life. 
It was 2017, and Dr. Gulati, a busy endocrinologist in Middletown, Conn., struggled to understand why she felt so unfulfilled. She had accomplished her childhood dream of becoming a doctor, earning her degree from a premier, ultracompetitive medical school in her native India, getting into a good residency program followed by an internship and fellowship. She was happily married with two beautiful young children. 
So why so unsatisfied?  
"As an endocrinologist, you often see the toughest patients," Dr. Gulati said. "Many of them have had uncontrollable diabetes and years of suffering behind them before they come to you, often in the end stage of diabetes. You start them on insulin and, when they come back, their sugars are still not better, so you increase their insulin and on and on it goes.  
"I believe our patients' suffering affects us, and I knew deep down this was not the best that I could be doing. I was struggling to find meaning in my work then. I know now that I was burning out." 
Burnout is a burgeoning problem in health care. The prevalence of physician burnout rose from 38% in 2020 to nearly 63% in 2021, according to results of a study conducted by the American Medical Association, Mayo Clinic and Stanford Medicine. Another 2021 study found that one in three physicians intended to reduce their work hours and one in five planned to leave their practice completely.  
Dr. Gulati's second child was born one and a half months premature and, looking back, she wonders if that could have been prevented had she better managed her work stress, sleep, nutrition and overall health. Post-partum upon returning to work, she often wondered in the mornings why she should leave her two young children if she was not finding meaning in her work.  
Then Dr. Gulati read about a leadership conference at Harvard University for female physicians and decided to attend. At that conference, she noticed Beth Frates, MD, FACLM, DipABLM, of Harvard Medical School, during a breakout session for women physician leaders' self-care and wellness. Dr. Frates was in a business suit and hula hooping, laughing and chatting with other physicians who were also in hula hoops.  
Dr. Gulati had what she described later as an epiphany.  
"I realized Dr. Frates was the opposite of me," Dr. Gulati said. "She was clearly enjoying herself; I was not. She enjoyed her work; I did not. She looked like the kind of person who couldn't wait to get out of bed in the morning and go to work."
Dr. Gulati googled Dr. Frates and watched some of her YouTube videos. For the first time in her medical education or career, she heard the words "lifestyle medicine." 
A new sense of purpose 
Lifestyle medicine is a medical specialty that uses therapeutic lifestyle interventions as a primary modality to treat chronic conditions including, but not limited to, cardiovascular diseases, type 2 diabetes, and obesity. Lifestyle medicine certified clinicians are trained to apply evidence-based, whole-person, prescriptive lifestyle change to treat and, when used intensively, often reverse such conditions. Applying the six pillars of lifestyle medicine—a whole-food, plant-predominant eating pattern, physical activity, restorative sleep, stress management, avoidance of risky substances and positive social connections—also provides effective prevention for these conditions. 
Dr. Gulati learned that Dr. Frates had devoted her career to advancing lifestyle medicine in medical education and was an expert lifestyle medicine consultant and wellness coach. Today Dr. Frates is President of American College of Lifestyle Medicine (ACLM), the nation's medical professional society representing clinicians dedicated to a lifestyle medicine and food-as-medicine–first approach to health care.  
As Dr. Gulati learned about lifestyle medicine and the scientific evidence that supports it, she felt astounded that she had never learned much about lifestyle behaviors such as nutrition and physical activity in medical school. She wasn't alone. A 2019 systematic review published in The Lancet concluded that nutrition is insufficiently incorporated into medical education, regardless of country, setting, or year of medical education. This deficit affects students' knowledge, skills and confidence to implement nutrition care into patient care.  
"I felt like I had been living under a rock," Dr. Gulati said. "How did I not know this? How can I treat people with diabetes and not know the science of lifestyle medicine? I saw that you could become board certified and said 'Ok, I have to do this.' It became my purpose." 
Dr. Gulati joined ACLM, which today represents more than 9,000 physicians and other health professionals. It is the only organization that educates, equips, and supports certification of physicians and other clinicians in lifestyle medicine. The organization was highlighted at the White House Conference on Hunger, Nutrition and Health in September for providing 100,000 health care professionals complimentary registration for a 5.5-hour "Lifestyle Medicine and Food as Medicine Essentials" CME/CE accredited online course bundle. Clinicians can register for the free course here.  
As Dr. Gulati acquired the continuing medical education credits required to sit for the American Board of Lifestyle Medicine exam, she began to apply the pillars of lifestyle medicine to her own life. 
She transitioned to a predominantly whole food, plant-based dietary pattern, committed to regular physical activity, improved her sleep habits and practiced mindfulness. She was struck by how helpful the pillars would have been to her in medical school, where all-nighters, stress and unhealthy lifestyle habits were practically a badge of honor. Self-care was nonexistent. 
She read one survey showing that physicians who perform aerobic exercise regularly are more likely to counsel their patients on the benefits of these exercises, as are physicians who perform strength training.  
"This opened my eyes to why I needed to get more physical activity myself, because my personal health behaviors would rub on to my patients! I compare it to putting on your own airplane oxygen mask before helping the person next to you," Dr. Gulati said. "If I don't do it myself, how I am I going to be able to talk about it convincingly in good faith to a patient? How am I going to be honest as a scientist as I am telling someone with two jobs 'Oh, you need to take care of yourself' if I myself never take time to care for my personal health?" 
She also came to realize the unintended impact a doctor who is suffering from burnout has on patients. One patient mentioned to Dr. Gulati that the primary care doctor who had referred her seemed jaded and warned her to never let her child go to medical school.  
"It wasn't what they were hoping to get from their physician," she said. "If I was the patient, I would have felt the same way. I would not have wanted to go to a burned-out or jaded physician. Because maybe they are in their own head and are not going to listen and provide the optimal solution to my problem. 
"Hearing this from a patient about another physician made me realize that our patients can sense their provider's unease and suffering very easily in that brief clinical encounter, so we have to make deliberate efforts to work on our own health and happiness, too. As a profession, we are very poor at recognizing our own discomfort, we keep putting ourselves last." 
Making people better 
Dr. Gulati earned board certification in lifestyle medicine in 2018. She created a lifestyle medicine service in her health system and, along with the skills and knowledge she developed while pursing certification, incorporated the expansive catalogue of evidence-based resources provided to ACLM members. 
Those resources include the downloadable "Food as Medicine Toolkit," "Healthy Whole Food, Plant-Predominant Menu Planner on a Budget" kit, downloadable habit tracker and access to ACLM webinar archives. ACLM also provides clinicians a "Reimbursement Roadmap" to help them navigate and overcome common barriers to receiving payment for lifestyle medicine interventions.  
"There are so many resources from ACLM that I employ daily in my clinical practice," Dr. Gulati said. "No patient who sees me in my office leaves without filling out a food frequency questionnaire, no matter if they come to me about their osteoporosis or diabetes. It only takes them a minute so, even if I am crunched for time, so we can have some basic discussion." 
ACLM membership also includes access to the exclusive ACLM Job Board, up to seven hours of free CME/CE courses, discounts for other courses and its annual conference, innovative research studies in the American Journal of Lifestyle Medicine and ACLM Connect, an online community where like-minded and engaged clinicians interested in lifestyle medicine can network and exchange ideas and best practices.  
Dr. Gulati has established shared medical appointments through her lifestyle medicine service line to expand the program's reach and so patients can connect and support each other. She refers patients to sleep studies more often now that she knows the crucial impact of sleep deprivation on hormonal health. Some patients reach out to her after hearing about her lifestyle medicine approach from friends and colleagues. 
"There is a huge demand for this," she said. "Appointments are no longer just about tweaking someone's insulin or putting someone on a new diabetes medication that might not even be covered by their insurance. I feel like I am practicing more scientific, evidence-based medicine and more effective therapies, which have increased my confidence." 
A framed picture hangs prominently in Dr. Gulati's office. It's Dr. Frates in that hula hoop, getting brief but vigorous physical activity in the middle of a busy workday. Dr. Gulati knows now that even brief bursts of energy enhance attention span, productivity and overall health. The photo also reminds her to be present at work – or, she calls it, in "a flow." That could involve simply be holding a patient's hand, undistracted by charts, electric medical records or a waiting room full of patients.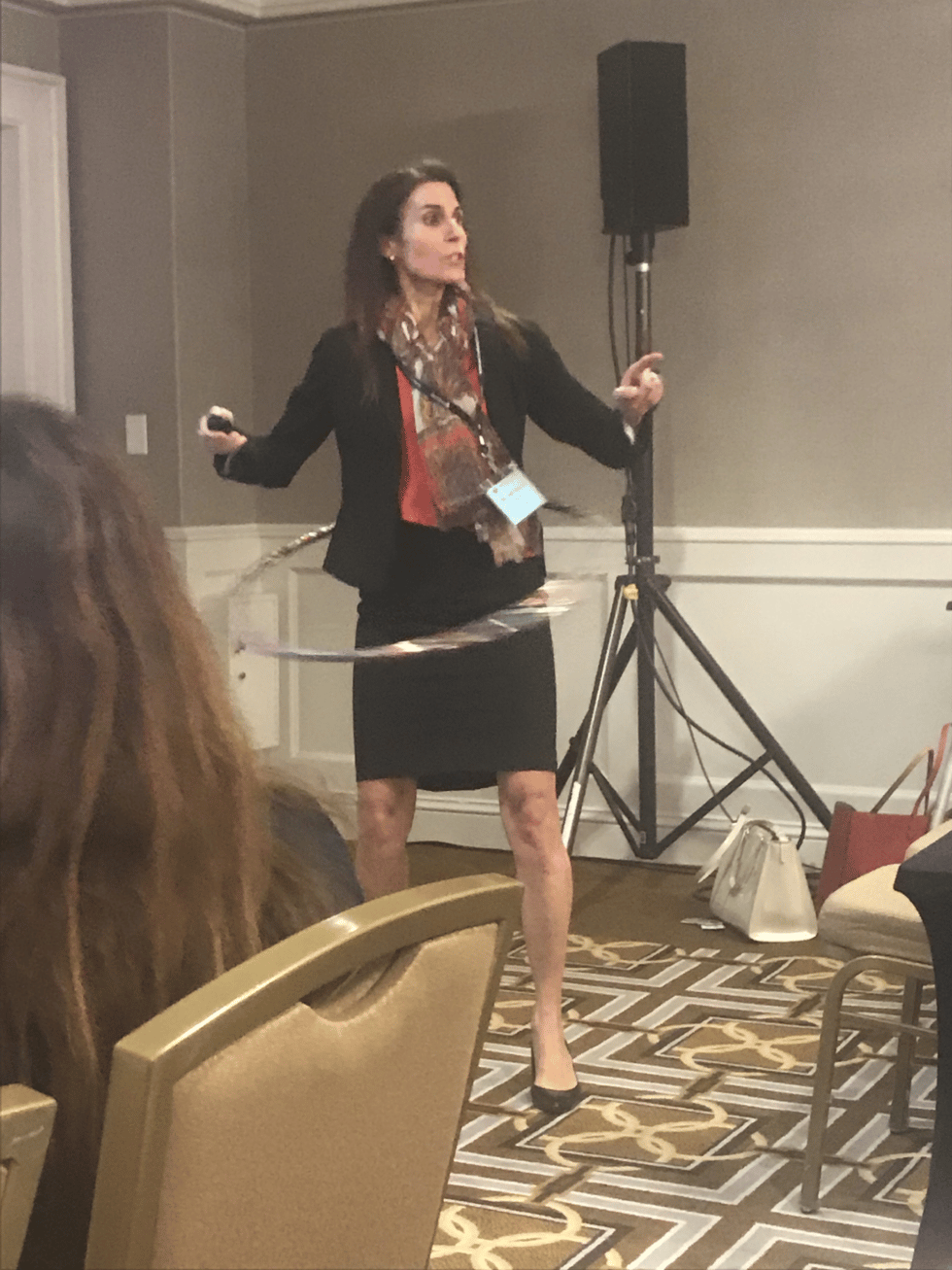 Beth Frates, MD, FACLM, DipABLM, hula hooping.
"I feel like I am doing the right thing," she said. "By discussing these therapeutic behavior changes, I am actually helping people feel better." 
And that feeling has made Dr. Gulati better. She no longer wonders every morning why she is leaving her two children for work that she previously struggled to find meaning in. She kisses them goodbye, inspired and energized to get to the office and help her patients and colleagues embrace lifestyle behavior changes and achieve whole health.  
She is, at last, happy to be a doctor again.