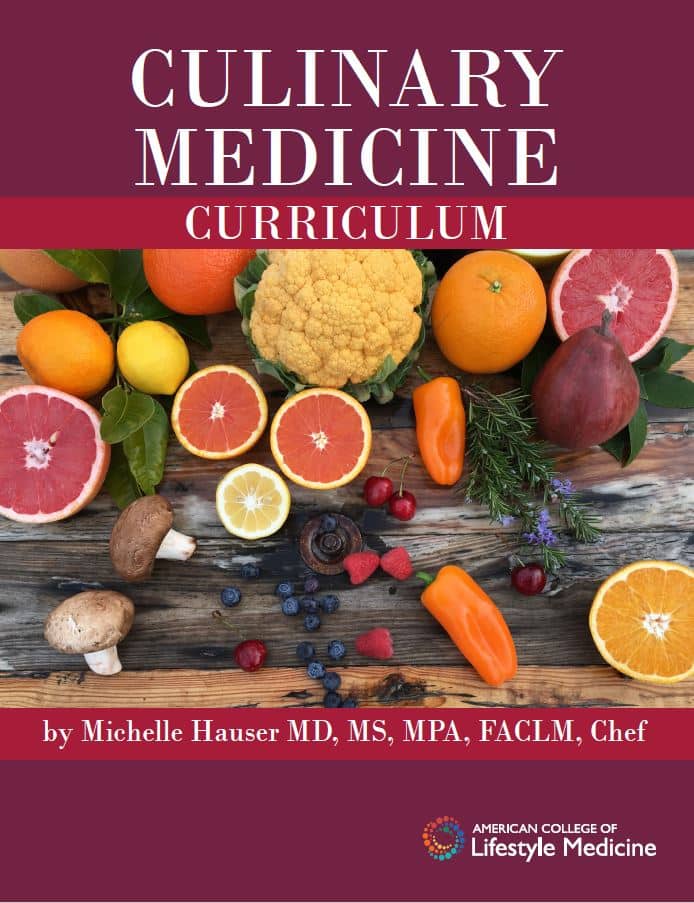 Culinary Medicine Curriculum
The American College of Lifestyle Medicine is pleased to offer this curriculum which is based on the foundational work of Michelle Hauser, MD, MS, MPA, FACP, FACLM, DipABLM, Chef. The curriculum is available via complimentary download and is intended to be used and implemented in the following settings: medical schools, health professional education programs, residency programs and more! Providing healthcare professionals with a strong foundation in Culinary Medicine — including what constitutes a healthy diet and how to find, obtain, and prepare healthy and delicious food — is a key part of educating health professionals to support patients in achieving better health outcomes.
Session Topics by Week
1. Introduction to Kitchen Basics
2. Saute, Stir-Fry, Simmer, Braise
3. Roasting
4. Soups and Salads
5. Beans & Whole Grains: Building Healthy Bowls
6. Healthy Breakfast
7. Pastas and Sauces
8. The Dessert Flip
9. Final Project and Potluck
With this course, the participant will receive an instructor's guide, recipes, shopping guides and equipment lists for creating pop-up teaching kitchens.
"I really enjoyed the course and wish it was a staple of our medical school curriculum. I feel very fortunate I was able to participate and think it will have a lasting impact on my life and my patients."
AUTHOR
Michelle Hauser, MD, MS, MPA, FACP, FACLM, DipABLM, Chef
AUTHOR
Clinical Associate Professor @Stanford University School of Medicine, Departments of Surgery and Medicine
Michelle Hauser is Clinical Associate Professor at Stanford University School of Medicine in the Departments of Surgery (Minimally Invasive and Bariatric Surgery) and Medicine (Primary Care and Population Health). She practices obesity medicine, lifestyle medicine, and internal medicine-primary care within the Veterans Affairs Health Care System, San Mateo County Health System, and Stanford Health Care. She is also well-known for her work in culinary medicine which is the bridging of nutrition, culinary arts, and behavioral lifestyle change; her Culinary Medicine Curriculum is in used for health professional education and patient care in 100 countries. In addition to the above, her research interests include food insecurity, healthy lifestyle interventions for underserved patients, obesity, and nutrition.
Website: https://www.ChefInMedicine.com
Social Media @ChefInMedicine
---
CONTRIBUTORS
Julia Nordgren, MD, Chef; Maya Adam, MD; Christopher Gardner, PhD, FAHA; Tracy Rydel, MD; Alaina Bever, BS; Emma Steinberg, MD, Chef
FREQUENTLY ASKED QUESTIONS
PUBLICATIONS
Publications
Hauser ME. A Novel Culinary Medicine Course for Undergraduate Medical Education. American Journal of Lifestyle Medicine. 2019;13(3):262-264.
Hauser ME, Nordgren JR, Adam M, et al. The First, Comprehensive, Open-Source Culinary Medicine Curriculum for Health Professional Training Programs: A Global Reach. American Journal of Lifestyle Medicine. 2020;14(4):369-373.
Hauser ME, Nordgren J, Adam M, Gardner CD, Rydel T, Bever A, Steinberg E. A Comprehensive, Open-source, Culinary Medicine Curriculum for Health Professional Training Programs. (Poster Presentation) Teaching Kitchen Research Conference Abstract P2.01. JACM. Published Online Nov 9, 2020. doi: 10.1089/acm.2020.29085.abstracts.