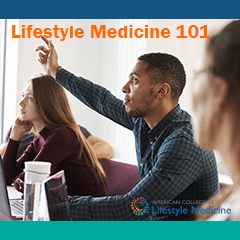 Lifestyle Medicine 101 Curriculum
The Lifestyle Medicine 101 (LM 101) curriculum includes thirteen slide decks, with 50-200 slides each, that follow Beth Frates' award winning Lifestyle Medicine Handbook. This curriculum can be tailored to a variety of settings to educate audiences about the basics of lifestyle medicine. The curriculum also includes a syllabus and instructor's manual.
These slide decks are an amazing resource whether you are looking to enhance patient education in the clinic, give lifestyle medicine community lectures, deliver lectures for your hospital grand rounds, or if you are a faculty member wanting to enhance your health course.  ~ Dr. Michelle Tollefson, MD, FACOG, DipABLM
LM 101 Curriculum
valued at
 $1,150
LM 101 Curriculum (PDF) | ACLM member – Complimentary! 
Includes PDFs of syllabus and instructor's manual
LM 101 Curriculum (PowerPoint) | Faculty – Fill out the interest form below to be granted access to the LM 101 Curriculum 
Includes customizable PowerPoints of all slide decks, syllabus and instructor's manual 
Curriculum Components
Slide Decks
Instructor's Manual
LM Syllabus
Beth Frates' LM Handbook
Modules
Introduction to Lifestyle Medicine–Understanding Lifestyle Medicine – 160 slides
Empowering People to Change – 118 slides
Collaborating, Motivating, Goal-Setting, and Tracking – 81 slides
Improving Health Through Exercise – 158 slides
The Nutrition-Health Connection – 152 slides
Weight Management – 57 slides
Sleep Matters – 140 slides
Stress and Resilience – 129 slides
Peace of Mind With Meditation, Mindfulness, and Relaxation – 146 slides
The Power of Connection – 129 slides
Positively Positive – 146 slides
Substance Use Disorder – 142 slides
Staying the Course – 117 slides
Curriculum Contributors
Beth Frates, MD, FACLM
AUTHOR
Clinical Assistant Professor @Harvard Medical School, Department of Physical Medicine and Rehabilitation
Dr. Beth Frates is passionate about lifestyle medicine and has been working to promote the field on a national level through the American College of Lifestyle Medicine as a Board Member as well as locally in the Boston area where she is a Clinical Assistant Professor at Harvard Medical School and an award-winning teacher. Having developed the first semester-long lifestyle medicine course at Harvard through the Harvard Extension School, Dr. Frates collaborated with ACLM to share her syllabus in hopes of empowering other faculty to teach similar courses. Additionally, Dr. Frates invited Dr. Jon Bonnet, Dr. Rich Joseph and Dr. Jim Peterson to co-create and publish The Lifestyle Medicine Handbook: An Introduction to the Power of Healthy Habits, which was produced in collaboration with ACLM. As Director of Wellness Programming at the Stroke Institute for Research and Recovery at Spaulding Rehabilitation Hospital, a Harvard Medical School affiliate, Dr. Frates leads wellness workshops for stroke survivors and their caregivers. Dr. Frates has her own lifestyle medicine consulting/coaching practice where she sees patients one on one and in groups.
Michelle Tollefson, MD, FACOG, DipABLM
CONTRIBUTOR 
Associate Professor @Metropolitan State University of Denver
Physician @St. Luke's Medical Clinic
Dr. Michelle Tollefson is board certified in lifestyle medicine as well as obstetrics and gynecology, with expertise encompassing lifestyle medicine across the female lifespan. For over a decade, she has been active in the lifestyle medicine and wellness coaching movements. She currently co-chairs both the Women's Health as well as the Pre-Professional Lifestyle Medicine Education Member Interest Groups for ACLM while also serving on the ACLM Education and Conference Planning Committees. Dr. Tollefson was previously the Medical Director of Women's Wellness Education for a Colorado health system and in full-time clinical practice, but she now volunteers at a non-profit clinic. As an associate professor at Metropolitan State University of Denver, she developed and now oversees the Lifestyle Medicine and Wellness Coaching Curriculum including the Bachelor's Level Lifestyle Medicine Major (IDP) and Minor. Dr. Tollefson lectures nationwide on a variety of topics related to lifestyle medicine and women's health and is passionate about optimizing women's health across the lifespan.
Gia Merlo, MD, MBA, DipABLM
CONTRIBUTOR
Clinical Professor, and Senior Advisor on Wellness @New York University
Clinical Professor of Psychiatry @NYU Grossman School of Medicine
Adjunct Professor @Rice University
Dr. Gia Merlo is passionate about lifestyle medicine, wellness and medical professionalism. Dr. Merlo is active on multiple national professional organizations including secretary of the American College of Lifestyle Medicine (ACLM) Pre-professional Member Interest Group (LMPP), as well as chair of the LMPP Mentoring & Outreach and Curriculum subcommittees. In 2020, she was elected to the Board of Directors of Plant Powered Metro New York after serving on the Advisory Medical Board in 2019. Prior to joining NYU, Merlo was Associate Dean of Health Professions, Professor in the Practice, and Founding Director of the Medical Professionalism Program at Rice University since 2014. She also taught medical students, residents and fellows at Baylor College of Medicine, where she was a 2017-19 Master Teacher Fellow. Additionally, she provided clinical supervision of the child and adolescent psychiatry fellows at Texas Children's Hospital medical home located at Corinthian Pointe in Houston. In the past, she served on the faculty at the University of Pennsylvania School of Medicine and the Children's Hospital of Philadelphia. In 2018, Merlo was chosen as one of Houston's 50 Most Influential Women by Houston Woman Magazine.
Frequently Asked Questions
Who can gain access to this curriculum?
Faculty at academic institutions are able to apply for a grant to pilot the LM 101 curriculum, allowing them to access customizable PowerPoints of all modules. Any person with a healthcare background who is interested in teaching an introductory Lifestyle Medicine Course, educating patients, or giving community lectures should consider becoming a member of the American College of Lifestyle Medicine. All ACLM members can gain access to the curriculum in PDF format. This could include physicians, nurses, nurse practitioners, physician assistants, health educators, behavioral health specialists, therapists, registered dietitian nutritionists, dietitian technicians, health and wellness coaches, social workers, EMT responders, psychologists, chiropractors, pharmacists, dentists, public health professionals, preventive medicine providers, patient/health navigation, corporate wellness professionals, Lifestyle Medicine champions or others.
How can I customize this material?
Anyone utilizing these slide decks must acknowledge any slides or content that they have added as it may represent the viewpoint of the presenter and not the viewpoint of ACLM. It is required that additional non-ACLM slides be labeled as such. Any faculty who has been granted access to customizable PowerPoints can utilize individual slides and incorporate them into existing lectures or new lectures as long as they maintain the integrity of the slide and logo exactly as originally created.
Who would benefit from this material?
This material is suitable to be taught in a variety of audiences including academic institutions, the general community, companies, healthcare organizations and workplaces. Therefore, audiences may include college students (associate/bachelor/masters/introductory-level doctoral), community members, healthcare team members, employees and many others.
Where can I purchase
 

The Lifestyle Medicine Handbook: An Introduction to the Power of Healthy Habits that goes with this curriculum?
Can I share this material?
This course material is to be utilized by individuals, institutions and organizations to educate groups and classes of students about the foundations of lifestyle medicine. Downloaded content is not allowed to be distributed or shared with those who have not been granted explicit access to the material.