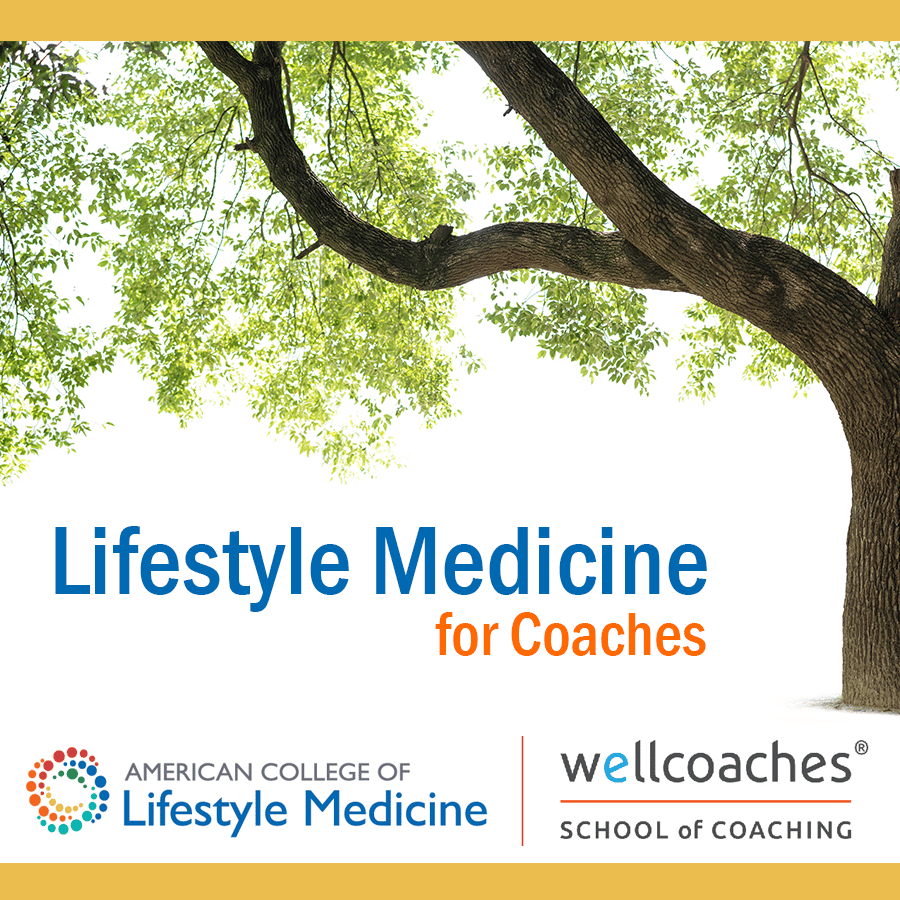 Topics Include:
Lifestyle Medicine: Introduction, integration into health care and resources

Basic Biometrics

Health and Lifestyle Diseases (Preventing Death and Disability)

Active Living: Physical Activity and Functional Fitness

Culinary Medicine: Basic Nutrition

Emotional Well-being and Resiliency

Positive Psychology and Health

Substance Use and Addictions

Sleep Health

Brain Health

Shared Decision Making

Interpreting Coaching Research
Lifestyle Medicine for Coaches:
A 21.5-hour Online Course on the Fundamentals of Lifestyle Medicine
ACLM members receive an exclusive 20% discount
Member:  $316
Non-member:  $395
IMPORTANT NOTE: ACLM members who register directly through the Wellcoaches site for full price do not qualify for retrospective partial refunds or pricing adjustments.
Sign up HERE on the ACLM site for the members-only discount.
Why Do Coaches Need Lifestyle Medicine?
As much as 85 cents of every dollar spent on health care in the United States goes toward the treatment of conditions rooted in poor lifestyle choices.
This 21.5-hour e-course provides an in-depth overview of the leading lifestyle medicine topics.
This course addresses the need for quality education and credentialing while supporting coaches in their individual practices or as part of a multidisciplinary team in their collective desire to promote lifestyle medicine as the primary treatment of choice.Coaches will gain an understanding of the whole human health experience and become effectively trained to educate, equip and empower their clients with lifestyle choices to prevent, treat and, often, even reverse chronic and select autoimmune disease.
Requirements for Course Completion
The course includes 21.5 hours of self-paced content in the form of videos, questions for reflection and journal prompts. It is divided into six sections, each followed by a knowledge assessment to aid the student in comprehension and application of the learning. To earn a "Certificate of Attendance", students must view each of the lessons in full and complete the six knowledge assessments with 80% accuracy.
The Lifestyle Medicine Coach (LMC) Certificate
If you are a Certified Wellcoach® through Wellcoaches, or have earned the National Board Certified – Health and Wellness Coach (NBC-HWC) designation from NBHWC, you may earn the Lifestyle Medicine Coach (LMC) Certificate upon course completion. If you are not a Certified Wellcoach, or an NBC-HWC, you will earn a Certificate of Attendance following course completion.
We recognize those who have earned their Lifestyle Medicine Certified Coach credential by highlighting them in ACLM's Member Directory.
This program is widely respected as the gold standard of health coach training. The industry-first programs gave birth to a new professional: the Certified Health and Wellness Coach. Expanding the scope, Wellcoaches   provides training for the Certified Personal Coach. The core training and certification programs, endorsed by both the American College of Sports Medicine and the American College of Lifestyle Medicine, are designed for professionals with expertise such as: weight, nutrition, fitness, stress or mind/body medicine, Lifestyle Medicine, chronic disease and mental health. Click here for details and to register!
To be sustained, a habit needs regular practice plus a good dose of both motivation and confidence. Habits become strong and automatic with repetition. A powerful habit starts a chain reaction that transforms other habits and changes the game. It delivers early wins and unlocks hope in the possibility of change. Keystone habits are so powerful that they not only change us but the culture around us when we engage in them together. The course's habits collections focus on: Coaching, Behavior Change, Emotional Balance, Burnout Prevention, and Transformational Leadership. Each habit (70+ habits to choose from) comes with creative and science-based videos, options for reminders via text and email and habits tracker to measure and celebrate progress. For more information or to register, click here.