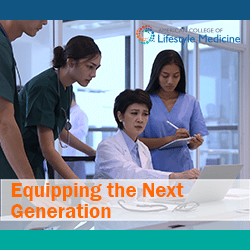 Lifestyle Medicine in Academia Symposium: Equipping the Next Generation
Prices per Course | NOTE: ACLM members receive an exclusive $50 discount!
Nonmember – $99
Member – $49
Description 
A gaping void of adequate lifestyle medicine training exists across the medical education continuum. To fill this void, leading institutions are incorporating lifestyle medicine education in health professional bachelor's, master's, and doctoral academic programs, undergraduate medical education (UME), and graduate medical education (GME). Viewers of this on-demand series will receive tailored implementation support as presenters highlight pathways, curricula, tools and community engagement techniques for incorporating lifestyle medicine across the entire academic spectrum. We encourage faculty, administration, deans, program directors and academicians to take this opportunity to learn more about integrating culinary and lifestyle medicine curriculum.
Learning Objectives 
Review the current status and advancements in Lifestyle Medicine academic education.
Highlight the successes and lessons learned from academic institutions leading in Lifestyle Medicine implementation.
Discuss opportunities for academic institutions to incorporate lifestyle medicine at various levels of engagement.
Demonstrate opportunities to implement high quality culinary medicine curriculum within preprofessional and medical education.
Evaluate opportunities for academic institutions to create and enhance effective community and multidisciplinary engagement.
Provide lifestyle medicine education guidance, tools, resources and individualized/customized support to attendees.