First-Time Attendee Finds a Home at ACLM Annual Conference
Dr. David Gutierrez, who embraced lifestyle medicine after his minor heart attack in 2021, was energized by the annual gathering of clinicians focused on the fast-growing medical specialty.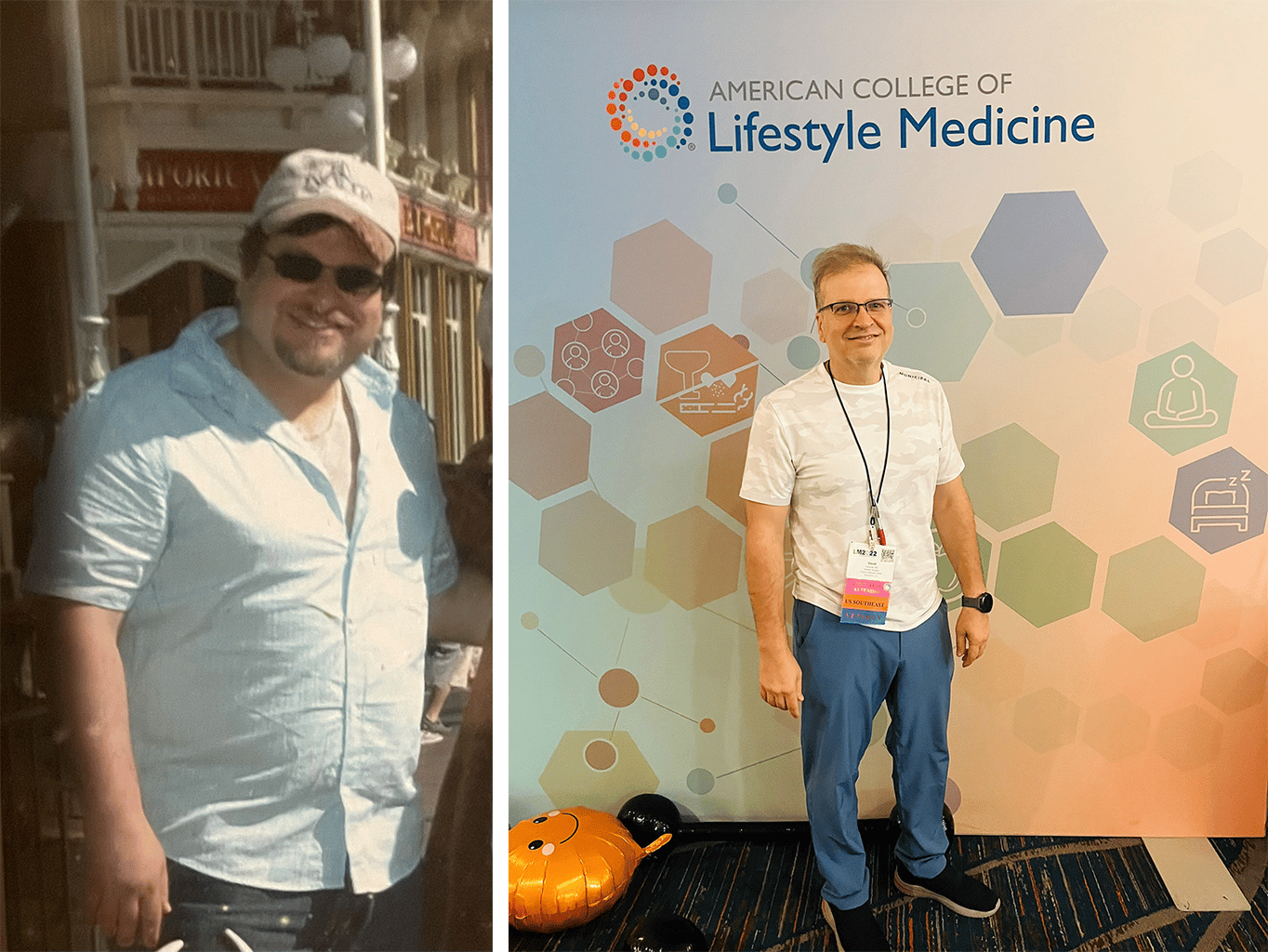 David Gutierrez, MD, didn't meet any other doctors from rural Louisiana at Lifestyle Medicine 2022. Franklin Parish, where he practices general surgery, ranks near the bottom of the national health rankings and lifestyle is a big reason why.
Yet Dr. Gutierrez says he never felt more at home than he did at the American College of Lifestyle Medicine's (ACLM) annual conference Nov. 13-16, 2022 in Orlando, Fla. It was his first time to attend the gathering of almost 1,900 clinicians, health leaders and health innovators from some of the nation's largest health systems.
"You can feel a little lonely being the only doctor you know who sees lifestyle medicine as the future of health care and is already using it with some great patient outcomes," said Dr. Gutierrez, standing in the crowded exhibit hall of the Rosen Shingle Creek Resort. "But here, everyone gets it. This is home."
Dr. Gutierrez's path to Lifestyle Medicine 2022 started on cold February day in 2021 outside his home as he cut up a live oak tree toppled by an ice storm. After feeling a persistent pain in his chest, he went to the hospital where he underwent a heart catherization with stent placement and returned home with the sobering knowledge that he had suffered a minor heart attack.
He already knew exactly how he would react. Before his heart incident, he had watched the documentary "Forks Over Knives," which presents the scientific evidence supporting the health benefits of a low-fat, whole food plant-based dietary lifestyle. In the film, Dr. Caldwell Esselstyn, Jr. demonstrates how the dietary pattern can achieve remission in a patient with cardiovascular disease.
"It blew my mind – you can reverse that?" Dr. Gutierrez said. "It went against everything I had been taught. I started looking at the research and learning about lifestyle medicine."
Lifestyle medicine is a medical specialty that uses therapeutic lifestyle interventions as a primary modality to treat chronic conditions including, but not limited to, cardiovascular diseases, type 2 diabetes, and obesity. Lifestyle medicine certified clinicians are trained to apply evidence-based, whole-person, prescriptive lifestyle change to treat and, when used intensively, often reverse such conditions. Applying the six pillars of lifestyle medicine—a whole-food, plant-predominant eating pattern, physical activity, restorative sleep, stress management, avoidance of risky substances and positive social connections—also provides effective prevention for these conditions.
Dr. Gutierrez identified an unhealthy diet and poor stress management as his most immediate health issues. He had left the hospital on multiple medications, including cholesterol and blood pressure medicine as well as anti-platelet agents. He experienced peripheral neuropathy as a side effect of the medications; his feet tingled. He set a goal to make significant lifestyle changes that would allow him to get off all those medications within a year.
Dr. Gutierrez lost 60 pounds. His cholesterol is now within the normal range and his most recent blood pressure was 91 over 77, much improved from his regular measurements in the 150s over 90s prior to his heart attack. Notably, plaque on his left carotid artery reduced in size from 15 millimeters to just 8 millimeters during the past year. He achieved his goal and no longer requires prescription medications.
"Before I went predominately plant based, I would inhale more steaks than air," he said. "Filet mignon was my thing, and I realize now that I used food as a way to cope with my stress. I feel great and I owe it all to lifestyle medicine."
His own health transformed, Dr. Gutierrez now focuses on introducing his patients to lifestyle medicine. He joined ACLM and attended Lifestyle Medicine 2022 to earn continuing medical education credits to sit for the American Board of Lifestyle Medicine certification exam. The conference featured three and a half days of plenary and concurrent sessions, more than 120 speakers, 25 member group meetings, 12 oral research abstract presentations, as well as 17 pre- and post-conference workshops at an additional cost.
High-profile sessions included former U.S. Surgeon General Jerome Adams, MD, MPH, FASA, speaking about how to achieve health equity through lifestyle medicine and NYC Health + Hospitals leaders on implementing system-wide efforts to advance nutrition and lifestyle education for patients and health care professionals in one of the largest public healthcare systems in the country. Valuable information was also shared on payment and reimbursement strategies for lifestyle medicine. This year's conference, Lifestyle Medicine 2023, will be held Oct. 29 – Nov. 1 in Denver. Virtual attendance is also available. Registration informaton is available here.
Energized and inspired, Dr. Gutierrez is eager to incorporate the skills and knowledge he gained at the conference into his practice and enhance his ability to help patients make meaningful and sustainable lifestyle behavior changes to treat chronic diseases. ACLM recently made a $22 million in-kind commitment in collaboration with the White House Conference on Hunger, Nutrition and Health to provide 5.5 hours of complimentary CME coursework to 100,000 physicians and other medical professionals treating patients in areas with a high prevalence of diet-related disease, like Franklin Parish. Clinicians can sign up here.
For patients who need extra convincing of the benefits of lifestyle medicine, Dr. Gutierrez sometimes shows them a picture of himself taken prior to his heart attack and asks them if they would take "lifestyle change advice from this guy?" Most answer 'no' and are stunned to learn the picture is of him.
Patients who commit to adopting lifestyle changes as part of their treatment plan return to appointments overjoyed with their success, he said.
"The satisfaction I felt treating disease with surgery I now feel treating chronic disease with lifestyle medicine, only it is better and with less risk to the patient," he said. "This is why I am so excited about lifestyle medicine."
Lifestyle Medicine 2023 is set for October 29 to November 1, 2023. Don't miss your opportunity to join like-minded colleagues at the beautiful Gaylord Rockies Resort in Denver, Colorado. Register now.