The nation's premier medical education event focused on lifestyle medicine as the foundation of chronic disease remission and health restoration.
Hybrid Event: Participate In Person or Virtually

Call for Proposals Now Open
The ACLM Annual Conference is an opportunity for health care professionals from different disciplines to engage in learning experiences that advance their careers, improve patient health and optimize practice value. This is your chance to showcase expertise in applying lifestyle medicine in practice, research and systems change.
Presentation proposals for concurrent sessions at Lifestyle Medicine 2023 are now being accepted and due by 11:59 PM EST on Thursday, March 2, 2023.
Before submitting, please make sure you read the full submission guidelines and that you can attend in person on October 29- November 1, 2023, at the Gaylord Rockies Resort, Denver, Colorado.
As the premier conference for transformational healthcare leaders, this year's event will provide abundant opportunities to learn from pioneers in the field while also earning continuing education credits.
The world is experiencing an epidemic of lifestyle-related chronic disease. Data shows that lifestyle, even more so than genes, is the primary determinant of health or disease. Unfortunately, our existing health care system emphasizes pills and procedures – which have many side effects – as the solution, enabling the management of symptoms, as opposed to identifying and eradicating the cause of disease. The time for change is now! The American College of Lifestyle Medicine (ACLM) advocates for a better way, deeply rooted in science. ACLM members represent a body of physicians, clinicians, health care professionals, and organizations that promote the use of lifestyle as a therapeutic intervention to prevent, treat, and, often, even reverse chronic, degenerative disease. "Treating the cause" is ACLM's mantra. Educating, equipping, and empowering individuals with the information and resources they need to protect their health and fight disease will greatly reduce the financial burden on families, employers, our nation and the world–all while adding years to lives and life to years.
In-person attendance registration includes:
Opening welcome reception
Tuesday evening award ceremony and reception
Three-and-a-half days of plenary and concurrent sessions organized in four distinctive tracks
Access to conference recordings for 60 days post-event
60+ hours of medical education
Six chef-prepared whole-food, plant-based meals and snacks
Interactive networking opportunities
In-person ONLY opportunity to attend pre- and post-conference workshops (Additional cost)
Expansive exhibit hall featuring vetted, lifestyle medicine-aligned products, services and organizations, scavenger hunt, giveaways, and more!
Virtual attendance registration includes:
Three-and-a-half days of plenary sessions.
Access to conference recordings for 60 days post-event
35+ hours of medical education
Interactive networking opportunities
Virtual exhibit hall, digital scavenger hunt, giveaways, and more!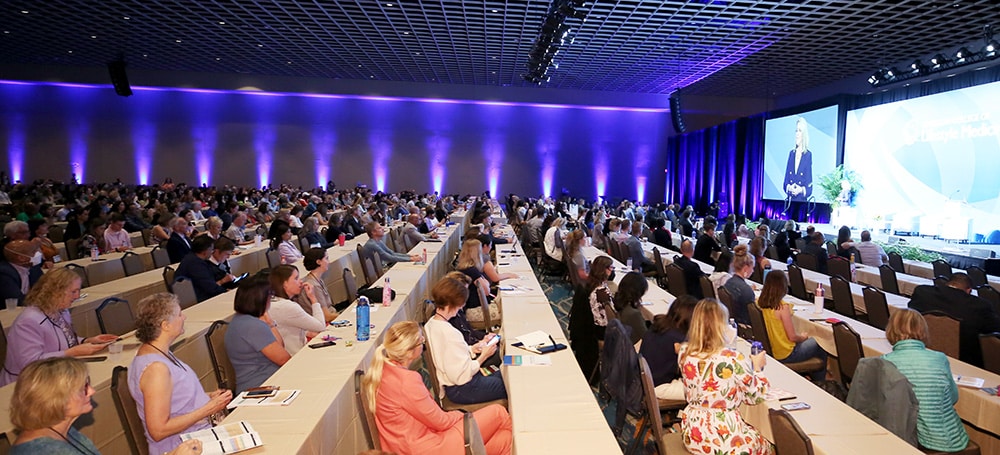 As a unique conference for those focused on health restoration, it draws 2000+ medical professionals from across the U.S. and internationally to hear keynotes by luminaries in the field, educational sessions presented by foremost experts, and research posters highlighting evidence-based practice. They discover new products and services to incorporate into their practices and participate in an array of networking functions with industry leaders and ACLM members. Any organization looking to connect with Lifestyle Medicine professionals will find the Annual Conference a place to meet the brightest minds in the fastest-growing field of medicine and to foster rewarding alliances.
Who attends:
Physicians and other clinicians, medical residents, healthcare executives, academic faculty, and prominent researchers network to advance the field of lifestyle medicine. Other attendees include partner organizations and political and civic leaders from across the US and around the world.
Thank you to LM2022 Sponsors: