HEAL Scholarship Helps Heal Communities One Physician at a Time
By Dr. Jamal Lawrence, MD, DipABLM
"The HEAL scholarship was created to provide an avenue for BIPOC healthcare professionals to explore lifestyle medicine as a specialty and help diversify the lifestyle medicine workforce."

– Dr. Jamal Lawrence, MD, DipABLM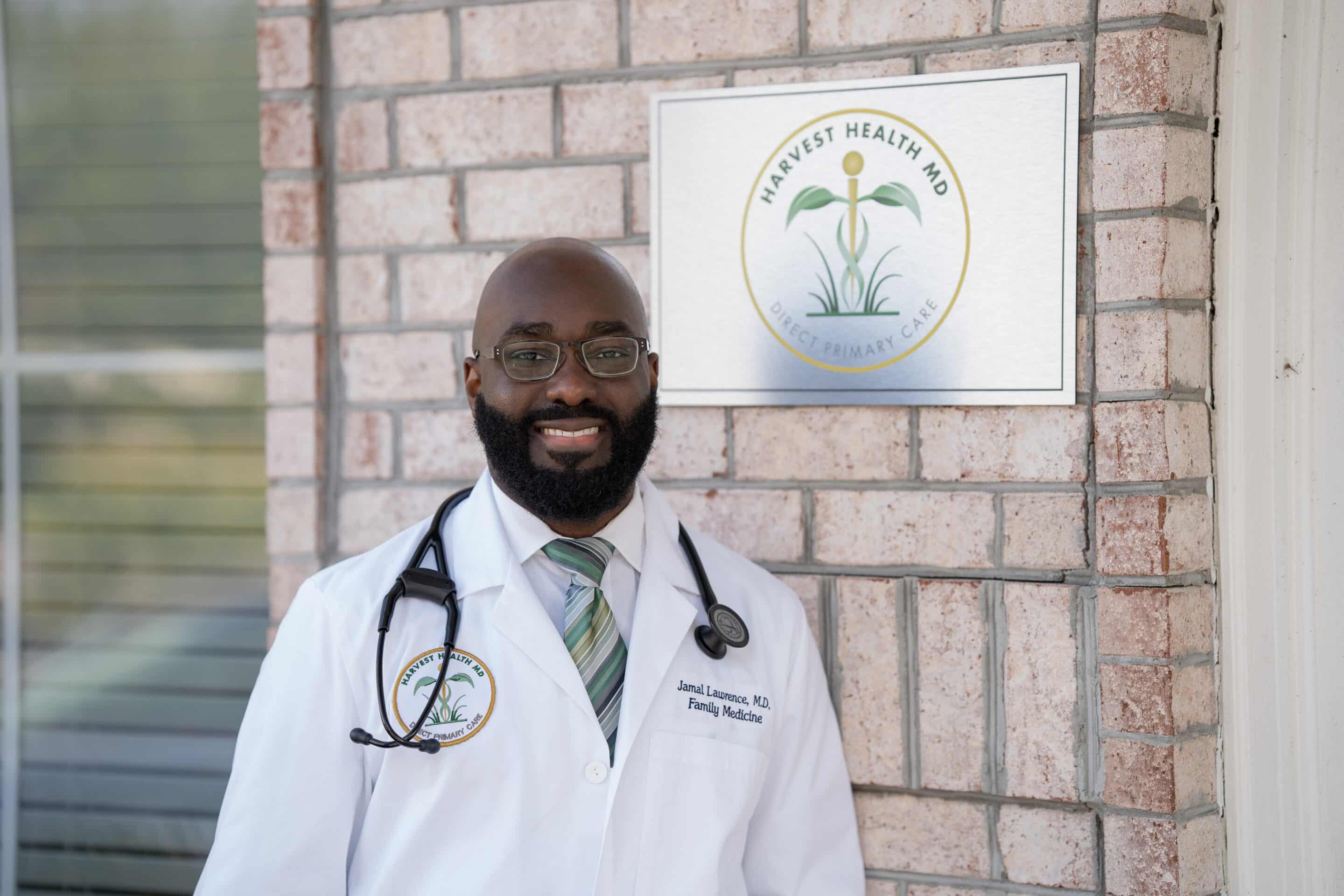 If you asked me in college what I would be if I didn't become a doctor, I would have said a social activist. As I pursued medicine, bridging the gap between the two was not clear to me until learning about the terms "health equity" and "social determinants of health" during training. It was then that my desire to serve my community crystallized into the desire to combine my passion for serving marginalized and underserved patients with my clinical skills into a fulfilling career as a physician.
The more I learned about health and wellness, the more I integrated it into my patient conversations. After discovering the field of lifestyle medicine and its effectiveness in treating common chronic medical conditions, I began integrating the foundational concepts into my direct primary care medical practice, Harvest Health MD. Capitalizing on the time I was able to spend with my patients while focusing on education, empowerment, and accountability, I was able to drive discussions around behavioral change – thus leading to improved patient quality of life and reduced disease burden. Despite this, I desired more in-depth study to further my knowledge and increase the value I could provide to patients within my practice and in the broader community.
HEAL Scholarship: A bridge between health equity and lifestyle medicine
As treatable and preventable chronic diseases continue to disproportionally affect BIPOC patients, it is obvious that lifestyle/behavior changes can be a tool used to combat the health inequities that so many minorities incur. As a black male physician, making up only 3% of US doctors, it was of utmost importance that I served my community in a meaningful way and focused on shifting perspectives toward a culture of health and wellness to bring about long-term change.
After learning about the Health Equity Achieved through Lifestyle Medicine (HEAL) Scholarship through the American College of Lifestyle Medicine (ACLM), a new pathway emerged that would allow me to bridge the gap between health and wellness, health equity, and my professional development all while driving equitable change for my community. The generous package put together by the sponsors, donors, and ACLM would alleviate a significant portion of the financial burden of obtaining my board certification as a new physician. Thus, I was ecstatic to be selected as a HEAL scholarship recipient and excited to begin my journey.
Benefits of the HEAL Scholarship
Becoming a scholarship recipient allowed me to meet like-minded colleagues with a shared value system and desire to improve patient outcomes by focusing on methods shown to have significant impacts on improving overall health and all-cause morbidity and mortality. Attending monthly webinars allowed for networking, and keeping abreast of new lifestyle medicine developments as well as key insights at the interface of lifestyle medicine and health equity. Not only that, but included in the scholarship was the opportunity to attend the annual ACLM conference and gain CME needed for certification. Beyond the networking and education, the scholarship not only covered the cost of the conference and provided a travel stipend, but it even covered the review course and exam cost for certification.
The HEAL scholarship was created to provide an avenue for BIPOC healthcare professionals to explore lifestyle medicine as a specialty and help diversify the lifestyle medicine workforce. Through it, I have gained invaluable knowledge that I have taken back to my community to improve care equity and health literacy. I can say without a doubt that this experience was both personally and professionally transformative. If you are a BIPOC healthcare professional who believes in the power of a healthy lifestyle to arrest, prevent, and in some cases reverse disease, applying to be a HEAL Scholar is an opportunity you should not pass up!
Dr. Jamal Lawrence, MD is a double board-certified Family Medicine/Lifestyle Medicine physician, the Founder of Harvest Health MD – a Savannah, GA, Direct Primary Care medical practice, and the President of his local medical society.
Dr. Jamal Lawrence, MD, DipABLM
Family Medicine | Lifestyle Medicine
Founder | CEO – Harvest Health MD
As he made changes to his own lifestyle habits, Dr. Turner started talking to a nutritionist colleague at the Mayo Clinic who mentioned ACLM, the nation's medical professional society representing clinicians dedicated to a lifestyle medicine. ACLM defines lifestyle medicine as the evidence-based use of a predominantly whole food, plant-based diet, physical activity, restorative sleep, social connection, avoidance of risky substances and stress management. ACLM, which represents more than 7,000 physicians and other clinicians, is the only organization that educates, equips, and supports certification of physicians and other clinicians in lifestyle medicine.
Dr. Turner began talking to patients about their lifestyle habits and explaining the evidence that supported how changes could improve their whole health. During clinical rounds, he visited patients with lifestyle-health related books that could benefit their specific health ailment. Resident doctors accompanying him on rounds would say afterward "I've never seen anyone do that before. Can you show me the books you're using?"
For patients who committed to lifestyle behavior changes, the results were at times astonishing. Patients suffering from severe hypertension enjoyed dramatic decreases in blood pressure and, subsequently significantly reduced the antihypertension medication they required. Patients with chronic kidney disease, diabetes or advanced atherosclerotic vascular disease stabilized their kidney function and did not progress to the point of needing dialysis. Patients with a history of kidney stones were able to prevent stone growth and new stone formation.
At times, Dr. Turner took good-natured ribbing from colleagues — "Here comes Turner with his veggies." But as health care spending soared, the pandemic raised awareness of the risks of chronic lifestyle-related disease and the evidence grew proving the therapeutic power of lifestyle medicine, interest in the field exploded. ACLM, which had 500 members in 2014, has grown to more than 9,000 practicing in the field. Large health systems are increasingly integrating a therapeutic dose of lifestyle medicine into patient care, employee health and their broader communities.
"Interest in lifestyle medicine is growing not just among clinicians and health systems but among patients who are increasingly understanding that they can make a big difference in their health with small lifestyle changes," said ACLM President Dr. Cate Collings, MD, MS, FACC, DipABLM. "Dr. Turner's generous gift to ACLM will help more clinicians gain the knowledge and skills to practice lifestyle medicine and partner with their patients take control of their heath."
The time is now for lifestyle medicine to become the foundation of health and health care, Dr. Turner said. He hopes his gift to ACLM can help build that foundation.
"ACLM has really become my intellectual home," Dr. Turner said. "I truly believe lifestyle medicine is the most positive thing happening in the medical space. I am excited to do my part to keep that positive momentum going."
Addressing each patient's diabetes is more in-depth than a standard diagnosis. Instead, residents and attending physicians educate patients about evidence-based lifestyle medicine that, if prescribed intensively, could reverse their diagnosis.
read more